8 Reasons why Non-Profits use SharePoint
There are many reasons why non-profits benefit from using SharePoint. I am going to go over 8 of the biggest reasons non-profits are fans of using SharePoint.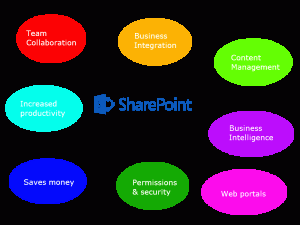 Team collaboration: SharePoint makes it capable for your organization to have a repository of documents and other web content that can be shared within your organization for a reduction in the duplication of content.
Business Integration: With SharePoint, you can integrate Dynamics CRM for Client-to-server integration and Server-to-server integration (CRM Online only).
Content Management: With SharePoint's content management functions, you can create business sites, intranet sites and extranet sites. Making Sharing and allowing certain permissions to content for specific people in your organization simpler.
Business intelligence: The BI tools in SharePoint include: Excel 2013, Excel Services in SharePoint 2013, PerformancePoint Services in SharePoint Server 2013, Visio Services in SharePoint, SharePoint 2013, and Microsoft SQL Server.
Web site portals: Using SharePoint for your organizations web portals can add value to your organization in ways that you might not have expected. You can make custom add-ins designed for your organization's use only, or you can download previously made add-ins that would add the productivity or functionality that your organization needs. There are two different types of SharePoint add-ins, hosted and provider-hosted add-ins. With SharePoint add-ins you can extend the capabilities of your SharePoint websites to help solve your business problems.
Permissions and security: SharePoint permission levels are defined at the site collection level and are inherited from the parent object by default. You can assign sets of permissions to individual users, groups of users or security groups.
Saves money: When SharePoint is being used in your organization, you can save money with improved productivity; more effective customer service, sales, or outreach teams; simplified management and training; a reduction in IT costs; and potentially reduced travel costs for team members.
Increased productivity: Your organization can increase productivity with SharePoint by facilitating teams for more effective collaborations, integration of applications with other tools, management of security tools and the protection of critical information.
It doesn't matter if team members are inside or outside your organization, SharePoint keeps everyone informed throughout the project's production process, until the desired results your organization is looking for are attained.