New Communication Services for Office 365
Last week Microsoft announced the availability of new Office 365 communications services designed to modernize voice, video, and meeting experiences, at the same time save organizations a substantial amount of money on their communication infrastructure. The new innovations Microsoft has introduced to Office 365 are security and analytics capabilities that are built on the Skype for Business experience and are integrated within Office 365.
Productivity powered by communication
Communication is evolving with text messages, instant messaging, voice, video, meetings and content sharing. Productivity driven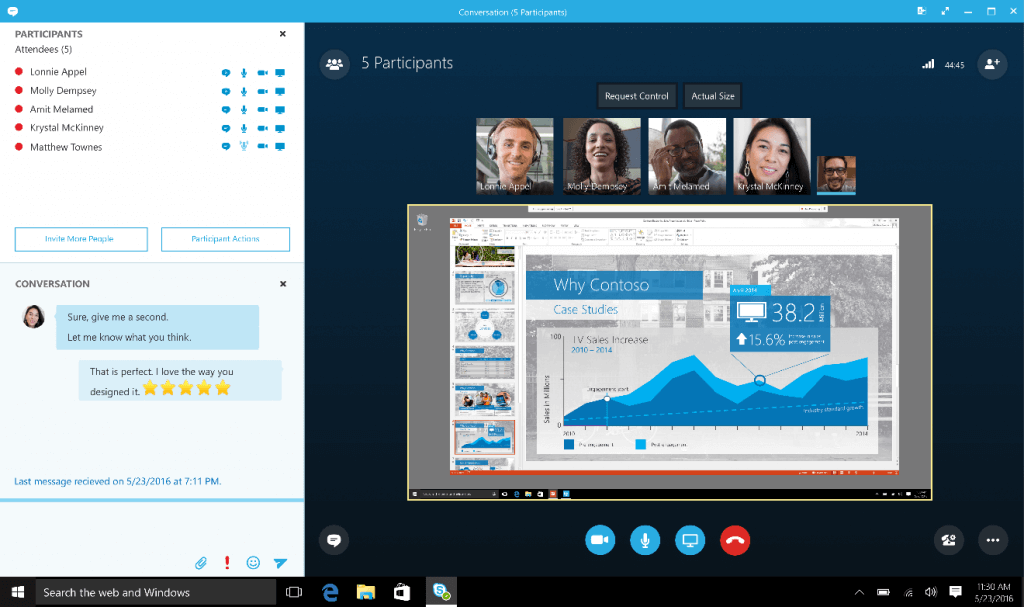 organizations learn how to adapt and take advance of this new technology in their workplace.
Built on the popular Skype user interface, Skype for Business continues to get better for organizations with these new capabilities:
PSTN Conferencing: Offers the ability to dial in to a meeting from a traditional phone, in addition to the existing ability to join a meeting with a single click on your PC or mobile device.
Cloud PBX: Lets organizations eliminate separate PBX systems and transition to the cloud with Office 365 as the location to manage users for communication.
Skype Meeting Broadcast: Grants organizations the ability to produce large virtual meetings for up to 10,000 meeting attendees, who can join from virtually any browser or device. Check out Skype Meeting Broadcast here.
PSTN Calling: Lets Office 365 customers subscribe to Microsoft managed calling plans and phone numbers, starting in the U.S. with more markets coming later.
Skype for Business new features video:
Simplify and lower your organizations infrastructure costs
Microsoft is currently the only company that has built this combination of productivity capabilities. A cloud business phone system that includes dial tone, and a complete meetings solution that includes audio, video, content sharing and messaging service. These are the core parts of this collaboration suite, that's available across mobile platforms and all across the globe.
With the new meetings capabilities Office 365 customers can have all of their conferencing solutions in one place. Now that Office 365 has the new features for Skype for Business theirs no need for legacy PBX phone systems and the effort it takes to maintain multiple conferencing solutions.
Office 365 partner ecosystem
Microsoft has set it up so that their partners (CGNET, is one) play a role in increasing the value of the Office 365 services. The partners who have the highest level of experience in delivering communications solutions end-to-end are the global systems integrator partners.
Microsoft also partners with telco operators who provide secure, high-quality network connectivity and managed services to help give the best experience to their customers when using Skype for Business.
Value of the new security and analytics features
The new security and data analytics capabilities in Office 365 include:
Delve Analytics: Provides insight on time and relationships through a rich dashboard with the purpose of helping individuals improve their productivity.
Power BI: Is a business analytics service that enables you to visualize and analyze data with greater efficiency, speed and understanding through live data filled dashboards, compelling visualizations and interactive reports.
Customer Lockbox: Gives Customers new approval rights, better transparency and control over their data in the cloud.
Advanced eDiscovery: Integrates Equivio machine learning, predictive coding and text analytics capabilities that can reduce the cost and challenge that can come from sorting through large quantities of data for eDiscovery purposes.
Advanced Threat Protection: Applies behavioral analysis to protect against unknown malware and viruses.
These new capabilities available now, are meant to add a significant amount of value to enterprise customers.
How do you think your organization will implement these new capabilities?