Microsoft Makes It Easier for Small and Mid-sized Businesses to Move to Office 365
Microsoft is really trying to make Office 365 more appealing to small and mid-sized businesses. The goal is to get SMBs on board so they can access their files from anywhere, collaborate in real-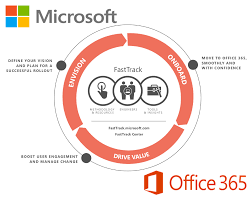 time and get the same enterprise-level security that the largest organizations have.
Yesterday Microsoft announced that customers with 50-149 seats in Office 365 Enterprise and Small Business plans will be able to use Microsoft's customer success service, FastTrack. This was previously only available to customers with 150 seats or more.
What is Microsoft FastTrack?
FastTrack has been designed to help customers get on board and up to speed with Microsoft's cloud technology, so they can succeed. With Microsoft FastTrack, your Microsoft Partner can assist you with planning successful rollouts and building tailored success plans, including technical implementation and user adoption strategies. The service applies across Office 365, Enterprise Mobility Suite, Microsoft Azure, and Microsoft Dynamics CRM.
Gartner recently did a survey on cloud email in large public companies and found Microsoft dominates Google, who is the second biggest competitor in the space. Google Apps fall short with organizations looking for security capabilities, extensive collaboration tools or a centralized management system.
If your organization expects to grow and expand, it's a good idea to go with a cloud service that will allow you to scale up. Office 365 scalability overshadows Google Apps across all their offerings.
If you are interested in accessing Microsoft FastTrack, we're the Microsoft Partners that can assist you in getting set up and planning your rollout.