A Potential Pocket Powerhouse:  the Computer on a Stick
Mobility is an increasingly important feature in the utilization of digital technology. The past decades' developments have yielded laptop computers, smartphones and tablets–all devices aimed at reproducing the experience of a desktop machine without the size and weight—and price tag. Intel and Google are among the first to attempt to truly provide the experience of a mobile desktop platform in the form of "stick computer." The new machines operate similarly to any other external dongle, plugging into, in this case, and HDMI port, to turn any compatible monitor into a personal computer.
The principle benefit of this idea is the ability to have a bootable system that can fit into a pocket, making potential solution for anyone who travels often, or personnel who work mainly in the field, away from a desk. Intel and Google each claim to have a solution that allows for simultaneously decreasing in size while increasing in power & capabilities – and potentially far cheaper than a full desktop platform.
Intel Compute Stick
Intel was the first to enter the ring for this new type of computing experience. Just add a HDMI display, and the Compute Stick provides a desktop experience. According to Intel the compute stick is ready to use right out of the box – but it does require a mouse and keyboard, and he ability to plug both into the same port, so some accessories will need to be obtained separately. The Compute Stick is available now.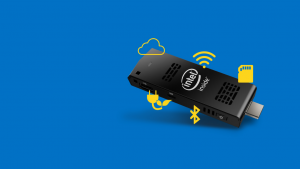 From Intel:
"A quad-core Intel® Atom™ processor and your choice of operating systems: Windows 8.1 with Bing or Ubuntu 14.04 LTS.  The Windows version includes 2 GB memory, 32 GB of on-board storage… The Ubuntu version has 1 GB memory and 8 GB of on-board storage. Both devices come with Wi-Fi and Bluetooth for connectivity, a USB port to connect peripherals and a micro SD card slot for additional storage."
Google Chromebit
The version of the computer on a stick offered by Google is designed as a web-based solution. The Chromebit dongle is built by ASUS and runs the Google Chrome OS, and its principle functionality is based around using Apps since it doesn't have its own internal storage.  According to the Chrome Blog, it will be available for "less than $100."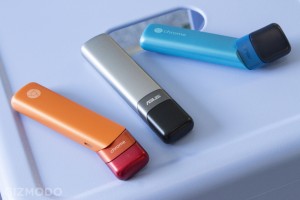 Gizmodo describes it with some enthusiasm:
"In addition to your Rockchip RK3288 (with quad-core Mali 760 graphics) you get 2GB of RAM, 16GB of solid state storage, 2×2 dual-band 802.11ac WiFi, Bluetooth 4.0, and a single full-size USB 2.0 port on one end. It won't be the most powerful PC you could plug into a TV, but it shouldn't be too bad for the browser-based OS. Google also expects it to make quite a splash with small businesses and third-world countries due to price and easy manageability. "
The Chromebit is scheduled to be available in mid-2015.
With both Google and Intel on board, this technology could potentially be a product type that will be fought over in parallel with all-in-one mobile devices such as smartphones, tablets and wearables. A post this month on IPWatchdog describes a number of other companies with similar projects in the pipeline.
While the manufacturers of these stick computers clearly have high hopes for their products, reviews have been mixed about the current incarnations. For now, the computer on a stick remains basically in beta mode—currently it has limited uses but a lot of potential.