At its otherwise fairly uneventful product launch event October 22, Apple made some news with pricing changes. The new version of its Macintosh operating system, Mac OS X Mavericks, will now be available free of charge to everybody. Furthermore, its word processing, spreadsheet and presentation apps will also be free to new or very recent buyers of Macs or iOS mobile devices.
The press, among others Wired, has seen this as a bit of a milestone, marking the end of charging for operating systems. Microsoft, however, still charges more than $100 for its Windows 8.1 operating system upgrade, except to that tiny percentage of users who have already bought Windows 8. But Microsoft is being portrayed as a bit of a dinosaur.  When Apple CEO Tim Cook announced the free availability of those productivity apps, Pages, Numbers and Keynote, the slide behind him showed the Microsoft Office 365 logo crumbling into dust.
So what does all this "free"dom really mean? To me, not much. To start with, most of CGNET's customers are nonprofits, NGOs and foundations. These folks can already get Office 365 for free. True, if you want all the Office desktop apps, you'll have to pay $54 a year, but the Web-based ones are free and pretty good. Google Apps, remember, is only Web based. Microsoft also recently announced that students will be able to get Office 365 for free if their schools sign up for the product for their faculty and staff.
Apple and Nonprofits
In this regard, a look at the Apple Website is revealing. Try searching for "nonprofit pricing." It's a popular search, the site says, but what are the results? Nada. If Apple has any special pricing for our customers it's keeping it well hidden. Meanwhile, Microsoft has just published a report on its corporate responsibility and generosity. The closest thing you can find on the Apple site, "supplier responsibility," is its policies for treatment of its workers in China. And where is the Jobs Foundation to rival the Gates Foundation? About even with the Ellison Foundation.
But beyond that, how real is Apple's "free?" It's definitely a price drop (although Mac OS coming down from $19.99 isn't that huge) but in the case of its productivity applications, it's only available to buyers of Apple hardware. Cross-subsidizing offers based on revenue from related products is a familiar marketing technique. Nothing revolutionary there. When you take into consideration the price differences between Apple products and their competitors, there's lots of room for cross subsidy. You can get a HP ultrabook with all the features of a MacBook Air and have enough left over for a couple of years of Office 365, and you can buy two or three low-end notebooks for the same price, Windows included.
The Real Competition
Of course, if you're really economy-minded, remember that the real competition to Office 2013 isn't Apple apps. It's previous versions of Office. Here's a chart from a brand-new Forrester report: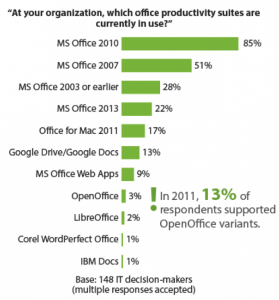 Don't get me wrong: I believe that Office 365 is a great product. But it's really because of Lync Online, Exchange Online, SharePoint Online and the Office Web Apps, not because of Office 2013. Upgrading from Office 2010 to Office 2013 gave me only one real improvement I can remember: You can open PDFs in Word. What's left, dare I say it, is planned obsolescence.
Perhaps we should start treating software the way we do shopping bags: reuse and recycle. Of course, as the chart shows, most of us do, which is why companies like Microsoft and Adobe are sweating.
Every now and then a product comes along that really is an innovation. The smartphone and the tablet come to mind. They deserve the buzz. But a new version of Office, or, for that matter a tablet or a smartphone that's a little faster and somewhat thinner? As they say in Hollywood: Pasadena.
The media should know better. But then, we're always saying that, aren't we?