Customer Highlight: Gates Foundation Backs bKash's Bangladesh Success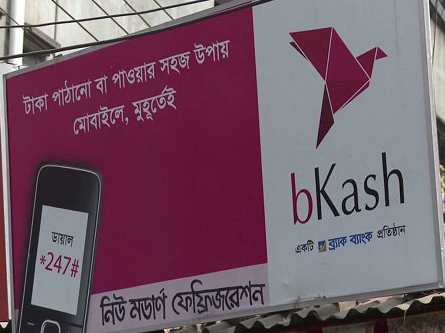 We like to highlight our customers' successes from time to time, because we are proud of what they do. In this customer highlight we celebrate how the Bill and Melinda Gates Foundation is supporting Bangladesh's surge in mobile financial services.
Bangladesh has long been famous for microfinance. In 2006, the Grameen Bank and its founder Muhammad Yunus won the Nobel Prize for the bank's pioneering work. But while the citizens of Bangladesh can get microfinance loans, they face other financial problems. Among these are the high risks and costs of sending, receiving and storing currency, as well as generally limited access to financial services.
Ironically, this is the case while Bangladeshi workers abroad send large amounts of money home, $1.4 billion in July 2014 alone, making Bangladesh the eighth largest remittance recipient country in the world.
Since 2011, however, the situation has been improving because of the rise of the mobile financial services industry. The first mobile financial service deployments in Bangladesh started in mid-2011. By the end of 2013, 22 percent of the adult population was using them. And more than 80 percent of transactions are through one company, bKash Ltd.
bKash's mobile financial services work by allowing people to sign up for free accounts and to send money instantly to any place in the country where there are local agents. bKash takes a small percentage of the money transferred and allows even rural residents to send and receive money. People working in the cities of Bangladesh are able to send money out to their families and friends in the countryside.
The enabling technology for these financial services is the mobile phone, which users employ in the presence of appointed agents to deposit or withdraw money. Accounts are linked to mobile phone numbers.
bKash has over 85,000 agents, and bKash is getting thousands of new accounts each day. Only 30 months after its launch, bKash had more than 11 million accounts. bKash is not only the fastest growing mobile financial services company in Bangladesh, but CGAP called it the fastest growing financial services company in the world in 2013.
The Gates Foundation is a minority investor in bKash. Prior to that, the Foundation invested in the BRAC Group, an NGO that is bKash's parent company. More generally, the Foundation has a goal to alleviate poverty by expanding access to digitally-based financial tools and services.
We love to see the change like this occurring, and we support our customers, The Bill and Melinda Gates Foundation, with its contributions to world-changing nonprofits and companies around the world.