CGNET Customer Highlight: Japan-funded 'RiceAdvice' project benefits over 16,000 farmers in Africa
The Government of Japan has supporting a 1-year project that trained 200 service providers to help more than 16,000 rice farmers in Mali and Nigeria benefit from "RiceAdvice'.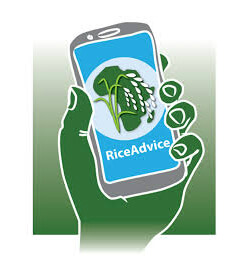 'RiceAdvice' is customized crop management decision support tool that helps farmers increase productivity, efficiency and profits.
The RiceAdvice app was developed by Africa Rice Center (AfricaRice), which can be downloaded for free via Google play on Android smartphones or tablet devices. RiceAdvice generates tailor-made recommendations that help farmers in irrigated and relatively favorable rain fed lowland area in Africa to apply mineral fertilizer more efficiently to optimize production and as well as reduce waste.
Farmers' efficient use of mineral fertilizers coupled with good agricultural practices is one of the keys to enhancing rice production in sub-Saharan Africa, where the average yiels is around 2.1 t/ha. AfricaRice studies have shown that the adoption of RiceAdvice recommendations can increase rice yield by 0.6 to 1.8 t/ha in farmers' fields.
According to Deutshe Gesellschaft für Internationale Zusammenarbeit (GIZ)-Competitive African Rice Initiative (CARI), which is one of the important project partners in Nigeria, a specific innovation element of RiceAdvice is that it is not only based on the agronomic conditions, but also on the financial capacity of the farmers in Africa.
CARI is helping deploy the RiceAdvice technology to over 9000 farmers in Nigeria through 97 trained service providers. "Farmers are happy with the significant improvement in yield and income that RiceAdvice has brought to them and are eager to continue with the service."
Highlights on RiceAdvice were presented at the project closing meeting held at AfricaRice-Cotonou research station on February 22nd 2017. The meeting was organizaed to review progress and achievements, share experiences, and develop a follow-up plan after the project ends this month (March 2017).
There are about 20 participants representing the Japanese Embassy in Benin, GIZ-CARI, Institut d' economie rurale (IER) Syngenta Foundation, National Cereals Research Institute (NCRI), Ahmadu Bello University and AfricaRice attended the meeting.
"We are pleased that nearly all the project targets have been achieved or even surpassed in some cases," said Dr Kazuki Saito, AfricaRice agronomist and project coordinator. The project's aim was to boost rice productivity, maximize rice farmers' investment potential and catalyze youth employment, contributing to food security and social stability in the two countries.
Thanking the Government of Japan and the various partners for their strong support, Dr Saito reported on the progress made in the use of media tools for promoting RiceAdvice, which includes the production of a promotional video, the creation of a Facebook Page and the development of a dedicated website.
The participants discussed opportunities and constraints for outscaling and upscaling RiceAdvice in a sustainable manner. The issues covered related to the need for appropriate business models, coordination mechanisms and identification of new partners.
AfricaRice and its partners are analyzing the data from the project and are making follow-up field visits to assess the initial impact and identify mechanisms for the effective rollout of RiceAdvice in sub-Saharan Africa after the closure of the project.