CGNET Customer Spotlight: AHF Launches Innovative, Affordable Housing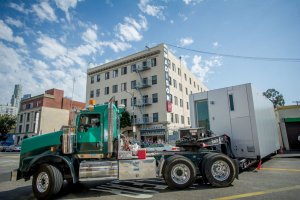 In recent months, the AIDS Healthcare Foundation (AHF) has delivered on solutions to affordable housing via their Healthy Housing Foundation Powered by AHF program (also known as HHF) in the United States.   AHF is the largest global AIDS organization, providing medical care and other services to over 900,000 individuals in 41 countries worldwide.   The specific goal of their HHF program is to work in partnership with local community stakeholders to innovate and deliver (with expediency), clean, safe and affordable housing (both transitional and long-term) for the area's most vulnerable citizens.    Homeless and low-income citizens with chronic health conditions, including HIV/AIDS, are given the highest priority for placement at these new residences.
In late 2017, HHF purchased and repurposed the 220-room Madison Hotel in the Skid Row section of downtown Los Angeles, location of one of the largest stable homeless populations in the United States.  In early 2018, they also purchased and renovated a 27-room motel on Sunset Boulevard in Hollywood as well as an historic 150-room hotel on the edge of Skid Row.   And most recently, the local community celebrated with HHF upon the delivery and installation of the first "Kasita" home to the parking lot of the Madison Hotel.   The Kasita is an inexpensive, modular micro home that can house up to 5 (currently homeless) residents.  It boasts not only a low cost and speedy production rate, but also a small footprint and the ability to be stacked and grouped to create a community in a small area.
Meanwhile, on the opposite coast, HHF has been working with local community groups and businesses in Broward County, Florida, to develop a residential "campus" in Ft. Lauderdale.  Broward County has been impacted disproportionately by the affordable housing crisis plaguing communities across the U.S.  This development intends to address the needs of low-income and chronically ill individuals and families and will hopefully serve as a model and set a framework for similar communities throughout the nation.
CGNET is proud to have a relationship with such an inspirational customer.  To learn more about the work of AHF and their Healthy Housing Foundation initiative, please visit  https://www.aidshealth.org/ and http://www.healthyhousingfoundation.net/ .