Connect Creatively with Microsoft's New Workplace Messaging Service
The public release of the chat-based workspace messaging service known as Teams is marked for the first quarter 2017.
Microsoft launched a new workplace messaging service called Microsoft Teams at an event in New York on Wednesday (2 November). Targeting business and research users, the announcement marks Microsoft's foray into the market that is dominated by rival services such as Slack, an instant messaging app that allows employees to communicate collaboratively from desktops.
The service will be available as part of Microsoft Office 365 suite, which has more than 85 million monthly active users. A preview version of Microsoft Teams is now available in 181 countries – in 18 languages – to Office 365 users with Enterprise or Business plans.
The final product is expected to be available in the first quarter of 2017. Microsoft's new messaging service is compatible across platforms such as Windows, Mac, Android, iOS and web platforms.
Features for success
Microsoft Teams lets employees conduct voice and video meetings and users can work together on Microsoft Office documents. The service also allows users to express themselves via emoji's, GIFs, stickers, and memes.
Services such as Word, Excel, PowerPoint, SharePoint, OneNote, Planner, Power BI and Delve are all accessible with Microsoft Teams. It is built on Office 365 Groups, making it easier for people to move from one collaboration tool to another.
Workers can also organize their conversations by topic. They can take advantage of a feature called Tabs, which offers quick access to the documents and other frequently used applications. These include Office 365 services like OneNote, SharePoint, and Planner or third-party services such as Zen desk and Asana.
Microsoft Teams supports the Connector model to offer notifications and updates from third-party services such as Twitter or GitHub. The service incorporates security features provided by Microsoft Cloud.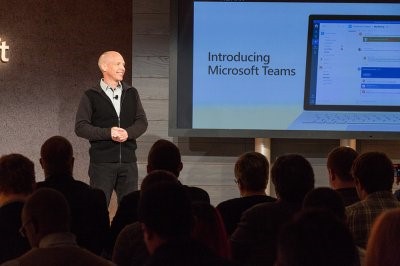 Office CVP Kirk Koenigsbauer unveiled Microsoft Teams, a tool that brings together the people, conversations, content, and tools teams need to collaborate.
Microsoft acquired workplace social networking service Yammer for more than $1bn (£802mn) in 2012 and analysts believe that the new service has more functions.
"At Microsoft, we aim to empower every person and organization with the technology to be more productive as individuals and in groups," chief executive officer Satya Nadella said in a statement.
"Office 365 is the broadest toolkit and platform for creation, communication, and collaboration. Microsoft Teams adds a new experience to Office 365 as the chat-based workspace designed to empower the art of teams," he added.