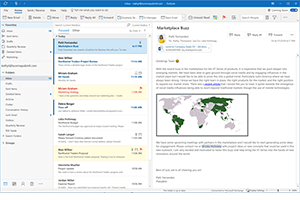 In case you missed reading your Office 365 Message Center email this week, Microsoft will soon be changing the user interface on both Outlook for the Web and Outlook for Windows. They are nudging users towards learning the new system by making it available unless administrators take steps to opt out. Get ready for help desk calls.
Of course, it's not that simple. When you see the new interface depends on how you subscribe to Office 365. If you are an Office 365 Targeted Release customer, you could begin to see changes in Outlook on the web next week. Targeted Release customers will also see changes to Outlook for Windows "in the next few weeks then rolling out more broadly to all Office 365 customers."
As far as I can tell, Targeted Release customers include Office Insider program insiders and Monthly Channel (Targeted) customers. You know who you are, right?
What you will see is a little "Coming Soon" button in the upper right-hand corner of Outlook. Clicking on that will make you restart Outlook, and then you will have the new interface. If you recoil in horror, you can click on the little button again and go back to your old interface.
What happens then depends on the user. Some will explore and like the new features. I actually like some of them. Some people will not like it. Learning is pain. Some, bless them, will be confused and call the help desk, or you.
Coming Soon to Outlook
It's worth mentioning that the interface change is inevitable. Even if users never participate in the "Coming Soon" activity, at some point Microsoft is just going to shift everybody over to the new system. So it's possible that getting people to experiment with it gradually may help, at least in some cases.
There is a way that administrators can hide the Coming Soon feature from users. There's a regkey:
Windows Registry Editor Version 5.00:
[HKEY_CURRENT_USER\Software\Policies\Microsoft\Office\16.0
\Outlook\Options\General]"DisablePreviewPlace"=dword:00000001
More information is available at the following links:
Outlook on the Web: https://techcommunity.microsoft.com/t5/Outlook-Blog/Designed-to-be-fast-The-Outlook-on-the-web-user-experience-gets/ba-p/234909
Outlook for Windows: https://techcommunity.microsoft.com/t5/Outlook-Blog/Designed-for-Simplicity-User-experience-updates-to-Outlook-for/ba-p/241590