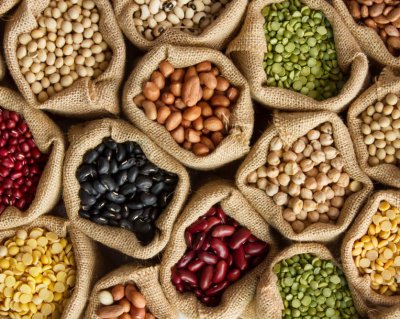 HarvestPlus, a joint initiative of the International Food Policy Research Institute (IFPRI) headquartered in Washington DC, and the International Center for Tropical Agriculture (CIAT) in Colombia, works diligently toward eliminating malnutrition and hunger across the globe.   Their scientists have crossbred a special crop of native American beans, naturally very high in iron, with beans of high-yield capacity native to other regions.  (The American beans are being conserved by CIAT in genebanks).  By crossbreeding this way, the new "biofortified" plant can adapt to both tropical conditions and intermittent drought.  Then local farmers in developing countries can easily grow and harvest them using traditional methods.  As 2 billion people worldwide are affected by iron deficiency, this is an important step towards the reduction of malnutrition.
What is biofortification?
CIAT scientist Steve Beebe coined the term in 2001. Biofortification is the process where the nutritional quality of food crops is improved through agronomic practices, plant breeding, or biotechnology.  In other words, when we think of fortified foods, we think of a manual process that occurs during the production of a food for market. Iron-fortified breakfast cereal and Vitamin D-fortified milk are good examples.  However, biofortification happens at the front-end, resulting in the creation of new seeds.  These seeds can then be sent worldwide and grown locally by conventional means.  Because the fortification happens naturally during plant growth, local farmers need to do nothing out of their normal routine to grow and harvest them.  You can watch a short video created by HarvestPlus on the process here .
Why this matters
Iron deficiency is the world's leading nutritional ailment.  This is particularly true in developing countries.    Lack of iron can impair both cognitive and physical development in children.  And the anemia that results from iron deficiency increases risks to women during childbirth.  However, the Journal of Nutrition in 2016 published an 18-week study revealing that eating these biofortified, iron-rich beans were having a positive impact on the health of young women in Rwanda.  Biofortified beans appear to be succeeding where other attempts to curb iron deficiency have failed.  This study of 150 women aged 18-27 with low iron status revealed that the consumption of these beans by half of the women – just twice a day for four-and-a-half months – resulted in significant improvement in cognitive performance (when compared to those who ate the regular, non-biofortified beans).   (You can read the abstract or full study here. )  These findings are exciting to the nutritionist at CIAT, Mercy Lung'aho who helped co-author the study.  As she put it, "…they show for the first time that these beans are an excellent vehicle for delivering long-term, low-cost solutions to a major health problem."
What's next?
HarvestPlus is making other efforts to further improve the yields of biofortified beans.  They are working on their adaptation to poor soils and disease resistance.  They are also exploring creative mechanisms to deliver the seeds for planting, in a broad scale and in different regions of the world.
To learn more about the important work of HarvestPlus and the other work they do, check out their website: http://www.harvestplus.org/content/about