Increasing Productivity through collaboration with Office 365 – Free Webinars with Q & A
The modern day workforce is continuously evolving, weather working remote for a SMB or working for an enterprise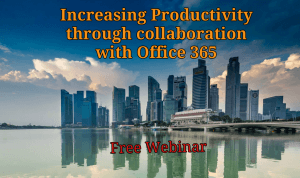 organization, collaborating has become the normal way to work. Hosting online meetings and collaborating in the cloud are what help run business today, so it's important to stay on top of the new technology and their capabilities.
We wanted to make sure you are aware of these amazing informative webinars, check out the topics that are covered below.
Master chat-based collaboration tools in Microsoft Teams
Join this live demo Wednesday, March 15 at 12 p.m. ET / 9 a.m. PT and learn how to:
Use chat for today's teams in a threaded, persistent way that keeps everyone engaged.
Participate in a hub that works seamlessly with Office 365 apps.
Customize options for each team with channels, connectors, tabs and bots.
Add your personality to your team with cool emojis, GIFs and stickers.
Work efficiently with SharePoint and OneDrive for Business
Join this live demo on Wednesday, April 5 at 12 p.m. ET / 9 a.m. PT and:
Find out when and why to use a particular tool for file sharing, storage and collaboration.
See how OneDrive for Business can help you get the most out of personal file storage.
Discover how to use some of the newest features to securely store, edit and share your documents.
Learn how to make professional team sites in minutes.
To register for one, or both of these upcoming sessions, you can visit the Office 365 live demo webinar series.
Additional on demand session:
Work smarter with Microsoft Delve
Discover how the Office Graph is changing the ways we interact with Office 365.
Learn what Microsoft Delve is and how you can use it to discover content relevant to your work.
Find out how MyAnalytics helps you be more effective at work with time and collaboration insights.
See how Microsoft Delve is being integrated into the tools you already know and love.
All of these webinars are free and you can view the first two live and all of them on demand.