Karma bot: Track Performance and Reward Excellence in Microsoft Teams
I want to introduce you to Karma bot. The new, performance tracking, promotion handling system available for Teams, through the Microsoft Teams store.
If you're not familiar with Microsoft Teams, you can review some of our previous blogs that will introduce you to its awesomeness. Otherwise, skip the links and read on below.
Microsoft Teams: Working with conversations
Microsoft Teams: Working with Files
Microsoft Teams: Working with Tabs
Microsoft Teams: Working with the Wiki Tab
Microsoft Teams: Working with the T-Bot
What is Karma bot?
Karma bot is an in-chat point rewarding system to motivate better work from Teams members. The team supervisors define what activities deserve positive or negative Karma points and award them as appropriate. At various intervals, such as monthly or annually, the points are added up and converted into a tangible reward, such as cash. Karma bot keeps track of each employee's awards, so that they are easy to administer, and it's integrated with Teams.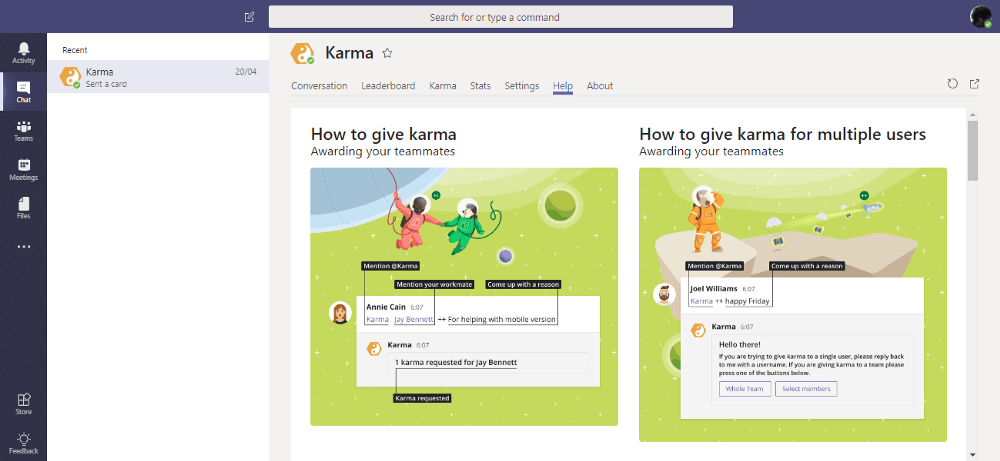 How does Karma bot work?
Set up Karma Mantra – Setup your Karma mantra by assigning points to the different tasks, duties and projects that your team/team members are assigned and or working on.
Invite @karmabot – Create a new channel or invite @karmabot to a current channel, to make it the project's channel.
Karmabot in action – Team members earn Mantra points for delivering on team projects, tasks, and other team duties. If something goes wrong, or your team members don't fulfill their duties, they can lose Karma points. Individuals can earn karma points for daily duties or whole teams can earn points for completing projects or tasks. At the end of the month, quarter and or year Karmabot divides total karma points earned for the team and gives back bonuses to teammates proportional to their points earned.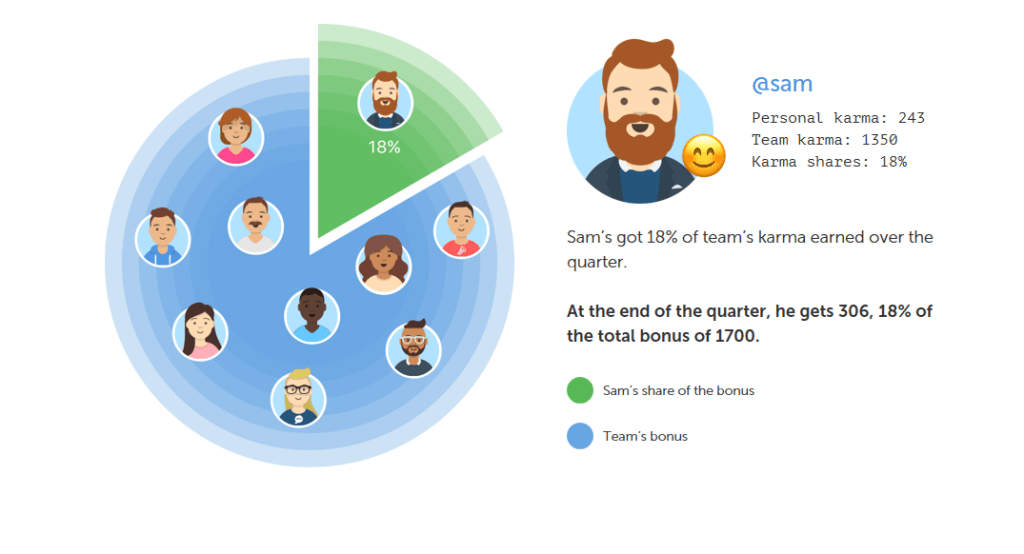 Karma bot details
Pricing:
$1 per user per month (contact us for enterprise solutions), 30-day trial period is available (no credit card required)
1 installation per team
100% free for small teams 10 users or less
Links: Install Karma bot
Learn more about Karma bot here.