There's Much for IT in the Latest Windows 10 Update
If you're an organization using Windows 10—which should be everyone not using a computer that features a partially eaten Apple—you'll want to have a look at the Windows 10 update that's just been released. You want is Windows 10, version 1809; it's also known as the Windows 10 October 2018 Update. There are a few consumer-focused features (Android phone users can now sync photos with their PC) but I want to call out the features of this Windows 10 update that make life easier for IT people. And by the way, here's a link to the Microsoft announcement for this Windows 10 update.
Before I get to the geekier features, let me start with a feature that straddles consumer and enterprise: wireless projection.
Improvements to Wireless Projection
If your organization has a conference room, that room probably has a big-screen monitor in it. Way Back When, there would be a computer in the room cabled to the monitor and dedicated to showing a presentation or web content. More recently, the conference room probably sported one or more cables to allow a user to connect their laptop to the monitor. Today, the pervasiveness of Wi-Fi networks and the Wi-Fi support built into modern TV's means that it's possible to project your content on the big monitor without any cables needed.
I tried this at home recently. Someone (foolishly) asked to see the pictures from my trip to South Africa. So, I fired up my laptop and with one or two clicks I was showing safari pictures on our television.
The problem I had was that I seemed to frequently lose the connection and had no way of knowing if I was still connected over Wi-Fi or not. With the Windows 10 update, that problem is solved. Now, I will see a banner on the TV displaying connection status and allowing me to disconnect or reconnect as needed. I can also fiddle with screen-to-screen latency settings if that's important to me.
For several years we've had a wireless projection setup for our conference room at CGNET. But it ran over Bluetooth, which meant we had to have a Bluetooth "stick" handy to plug into our laptops. This Wi-Fi connection seems much simpler to carry out than our Bluetooth solution.
Windows Autopilot Deployment Mode
With this Windows 10 update, you can now deploy Windows 10 to a device with no user intervention. You start up Windows Autopilot, plug an Ethernet cable into the device, and away you go. Your device does have to support TPM 2.0 to use this deployment mode.
Remote Desktop with Biometrics
I was happy to see this capability added into this Windows 10 update, because there are reports that hackers are increasingly compromising networks via Remote Desktop configurations. Adding a biometric authentication method will make it much more difficult to use Remote Desktop as an entry point into the organization's network.
Security Improvements
This Windows 10 update consolidates security settings onto a single screen, which is always helpful.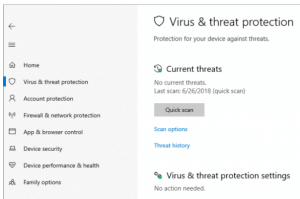 There's also a new feature, Block Suspicious Behaviors, that you can use to prevent an executable from making changes to files in specific folders, such as Documents and Pictures.
Windows Defender Advanced Threat Protection has a number of improvements.
Threat analytics reports
Support for custom event queries
Integration with Azure Security Center
Integration with Microsoft Cloud App Security
Support for Windows Server 2019
Ability to integrate with Managed Security Service Providers
It's great to see Microsoft focus some of its developer attention on ways to help IT managers better secure and manage Windows 10 devices. The Windows 10 October 2018 Update provides a good argument for updating Windows 10.