Manage your Travel and Deliveries better with Outlook
This week Microsoft announced new features in Outlook for managing travel and deliveries. These new features give you the ability to: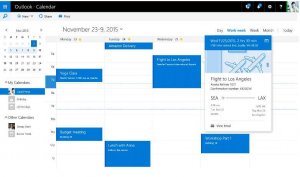 Verify your travel reservations and package delivery details easily using simplified summary cards in your inbox and calendar.
Check in for flights, change hotel and rental car reservations or track packages at the touch of a button.
Stay updated with reliable reminders for your flights.
These features just rolled out to Outlook for Mac and Outlook on the web. They will also be coming to Windows, iOS and Android, as well as the Windows 10 Mail and Calendar apps.
Email and reservations get an upgrade
Emails with travel itinerary can be complicated to read because they contain much more than just your average reservation information. Itineraries can get really confusing when multiple flights, hotel reservations, and rental car confirmations are included. Outlook now displays the most important information from travel itineraries and puts them in an easily readable summary at the top of your email.
Expedited actions
Along with increasing the visibility of your travel plans, the summary cards provide you with quick actions for the most important things you need to do. You no longer need to hunt for the check-in link in those long confirmation emails or try to find where to change your hotel reservation. It's all now just a click away, in the summary card above the email, you can go directly to the action link that will take you to the web page of that specific provider.
Adding your travel info automatically to your calendar
The new Outlook features add smarter email experiences, automatically adding travel events to your calendar with the same summary cards for each step of your trip detected in your reservation. The events include everything you'll need to know, such as the date, time, locations confirmation number and a few other key pieces of information you'll want to be able to access. You can also go to the original booking email with a single click from the calendar event in case you need to look up additional details.
Now when you get travel updates and cancellations, Outlook will automatically keep the events on your calendar updated with new information from your travel provider.
Check-In reminders to help keep you on time
Not all airlines have the best notification system set up to remind you of your flight, but Outlook will always send you a reminder 24 hours before your flight with a link to the airline's check-in experience. You can also set an Uber ride reminder because Outlook wants to make sure that you'll always get to the airport on time. Another cool feature is the ability you have to add an event to your calendar to provide quick actions. Outlook will send you another reminder three hours before your flight to make sure you get to your flight on time.
Package Deliveries
Microsoft is also adding package tracking experiences with these new Outlook features. The package tracking experience starts working when you receive a shipping confirmation email, then Outlook will summarize the most important information in a card above the email and automatically add an event to your calendar.
These new Outlook travel and deliveries features are currently being rolled out in North America with global expansion scheduled next.
I know CGNET management is always traveling for business, so implementing these new Outlook features will come in handy for sure. We'll update you on how we implement these new features and their benefits.