Microsoft and Cisco Offer Hybrid Cloud System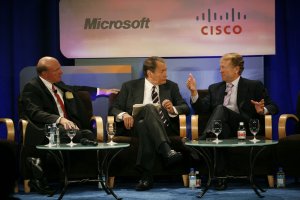 Managed service providers may find it easier to offer hybrid cloud solutions, if a new Cisco/Microsoft product works as promised. On Wednesday March 11th, Cisco announced a new arrangement with Microsoft in which Cisco's cloud management products will work more effectively with Windows Azure. This combination promises to benefit cloud service providers by including "pre-packaged policy management libraries" to more simply link apps and services in the service provider's architecture to Microsoft's Azure cloud computing resources.
Under the plan, the service provider buys and installs Cisco's Nexus 9000 with its Application Centric Infrastructure software and Windows Azure Pack. The package includes Cisco's fastest switch (Nexus 9000) together with Microsoft Azure, creating a hybrid cloud.
Cisco plans to publish the first reference architecture for the integration in April.