Microsoft Bookings is Now Available for Your Facebook Page
I introduced Microsoft Bookings in my last blog post, but today I'm introducing our readers to Microsoft Bookings for your Facebook Page!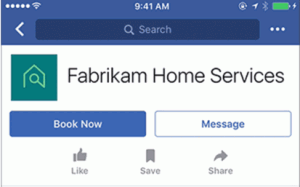 If you don't already know, Microsoft Bookings is a new service currently available for Office 365 Business Premium users. Now you automate scheduling appointments (bookings) Now you automate scheduling appointments (bookings) on your Facebook page and your business's Facebook Page as well.
Once you've connected Microsoft Bookings to your Facebook page, your customers can click on the Book Now button that you've set up and then they're able to select the service and time that works for them to book their appointment with you. Their contact information will be automatically filled in for them and once they click Book, they're done!
Microsoft Bookings for your Facebook's page has the same appointment confirmation, notification, and appointment reminders process that your Microsoft Bookings web page does. Making it easy for your business to maintain quality and professionalism and for your customers to purchase and control their use of your services.
Set up Microsoft Bookings on your Facebook page:
Note: Make sure you set up Microsoft Bookings in Office 365 and you've published your Booking Page.
Open your Facebook Business Page.
Choose Settings in the upper right (this only shows up for page admin)
Choose Partner Apps and Services in the left panel.
Choose Add Service.
Select Microsoft Bookings and click Add Service.
Sign into your Office 365 account once prompted by newly opened tab.
Once you see your booking calendars, choose the one you want to connect to your Facebook page, then press connect.
The tab will close and you'll return to your Facebook page that is now ready to receive Bookings!
Do you need assistance with setting up your Microsoft Bookings, let us know. We can help! Contact us now!