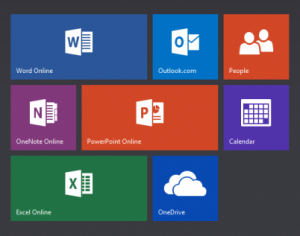 By Tim Haight
On my way to writing a post about the new virtues of Office Online, I got confused. I'm beginning to think that Microsoft is offering users too many choices. We may have to set up some policies to use Office's cloud apps effectively.
First, the good news. Microsoft has made some nice improvements to Office Online. You can read all about them here. My favorite is a nice feature called Tell Me, which was already in Word Online (formerly Word Web App) but has now been put into Excel Online, too. Tell Me helps you find commands. You type something into a Tell Me search box in the ribbon, and commands related to what you ask for are displayed. This is really a good idea, because the greatest problem with moving among all the versions of Office available now is that you don't know where in each app your favorite commands are. There's lots of other stuff, too, which the link above will aim you at.
Now for the irritating part: I'm finding that I have too many ways to do the same thing, too many places to put the results, and even, on occasion, too many passwords. The result is I'm spending a lot of time sort of wandering around between my desktop Office apps, the new Office apps on my iPad and Office Online. I'm also finding that as I advise clients, I'm beginning to ask them not to teach their users all the alternatives, but to pick the best ones and stick with them.
I am a full-fledged Office 365 user, so I have access to OneDrive for Business and to my company's SharePoint sites. I also have downloaded the desktop Office apps and have been able to unlock the full versions of the iPad Office apps. I also still have OneDrive, I think because it automatically comes with the desktop Office apps. It's also where something you create on Office.com gets stored.
What I would like to do with OneDrive (not for Business) is to remove it. The reason is that OneDrive for Business does everything that OneDrive does, so it becomes like having an extra mailbox. It's another location to manage, for negligible benefit. I've heard the argument that OneDrive is for your personal stuff, and OneDrive for Business is for your company stuff. But since OneDrive for Business is your personal, private space unless you specifically share something, I don't really understand why I also need OneDrive. I think, therefore, that when you get OneDrive for Business, Microsoft ought just to migrate all your stuff in OneDrive into your OneDrive for Business and decommission your OneDrive. That would simplify things.
Microsoft Online File Sharing
The next choice you have to deal with is where to save company files that you do want to share. One way to do this is to put them in a documents library on a company SharePoint site. Another way is to share a document or folder directly from OneDrive for Business. It is even possible to get a document from a SharePoint documents library and then save it to your OneDrive for Business. Of course, you stop saving shared changes if you do this.
The strategy I'm considering is to do all sharing out of SharePoint document libraries and just to use OneDrive for Business for personal stuff. You can do lots of things with document libraries. You can save documents there; you can create new documents; you can open documents already there. When you do this, you have the choice to edit them in the appropriate Office Online app, or with any native Office app you have on the device with which you've accessed the SharePoint site. This would be Word 2013 on my PC or Word for iPad on my iPad. When you save from either of those, the results go back to the SharePoint document.
You can also share those SharePoint documents either by emailing a link to somebody or by explicitly sharing the document with a share command. In both cases, the person shared with gets an email, and the document opens in Office Online, which you can then switch to your local Office app, if you want.
SharePoint has all those virtues of version control, and it can be managed under Active Directory, if that's an issue for you. In other words, I don't see what OneDrive for Business really adds in the document sharing department. In fact, I think touting its file sharing capabilities is confusing.
I think I know why Microsoft is doing it, however. Not everybody is like me. Some people don't have any Office apps, so using Office Online allows them to share, and even create, documents. Office Online is becoming a lot like Google Drive. And OneDrive for Business is now available in a standalone version, which makes it a head-to-head competitor to apps like Box and Dropbox, among others. Since Microsoft has been beaten out by these competitors, I can see why they don't just want to stick with Office 365.
But for those of us comfortably in the Office 365 fold, some of these competitive moves are distracting. A while back, Google got into a similar spot with Google Apps and Google Sites and a couple of others. They had to simplify. I wonder if Microsoft will have to do so, too.