Microsoft Office 365, you've got to preview this!
Last month Satya Nadella (CEO of Microsoft) introduced Microsoft 365 at Inspire (Microsoft's premier partner event). Microsoft 365 combines Office 365, Windows 10 and Enterprise Mobility +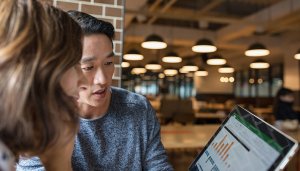 Security, delivering a complete, intelligent and secure solution.
Microsoft has over 100 million commercial monthly active Office 365 users and more than 500 million Windows 10 devices are in use. Combining these "power house" products is a game changer for the workplace!
Microsoft is aiming to address the commercial customers' needs with Microsoft 365 Enterprise and also taking care of small businesses with Microsoft 365 Business.
Microsoft 365 Enterprise is designed for organizations and integrates Office 365 Enterprise, Windows 10 Enterprise and Enterprise Mobility + Security, allowing you to be productive, creative and work together securely.
Microsoft 365 Enterprise:
Unlocks creativity by enabling people to work naturally with ink, voice and touch, all backed by tools that utilize AI and machine learning.
Provides the broadest and deepest set of apps and services with a universal toolkit for teamwork, giving people flexibility and choice in how they connect, share and communicate.
Simplifies IT by unifying management across users, devices, apps and services.
Helps safeguard customer data, company data and intellectual property with built-in, intelligent security.
Microsoft 365 Enterprise is offered in two plans—Microsoft 365 E3 and Microsoft 365 E5. Both are available for purchase today, August 1, 2017.
If you're organization is interested in learning more, let us know. Contact CGNET
Microsoft 365 Business:
Helps companies achieve more together by better connecting employees, customers and suppliers.
Empowers employees to get work done from anywhere, on any device.
Protects company data across devices with always-on security.
Simplifies the set-up and management of employee devices and services with a single IT console.
Microsoft 365 Business will be available in public preview on August 2, 2017. It will become generally available on a worldwide basis in the fall (CYQ3) of 2017, priced at US $20 per user, per month.
Microsoft 365 Business is available for public preview tomorrow August 2nd, 2017. Sign up here.