The days when a Windows machine was a necessary prerequisite to run Microsoft Office were not so long ago. Starting with making their flagship productivity package available on a Mac, Microsoft has made strides over the past few years to reduce the dependence on hardware denomination.
In 2015, they've made another leap forward: on January 29th, Microsoft announced a new and improved Office experience for mobile devices. Users operating a phone or tablet with iOS 8.0+ or Android 4.0 and above can now experience the full breadth of Microsoft's offerings on the go.
In a post on the Official Microsoft blog, Office Product Management Team general manager Julia White emphasized that the Microsoft Office suite has been entirely rebuilt for the mobile lifestyle. Outlook, Word, Excel, PowerPoint, and OneNote are all configured with a touchscreen experience in mind, but will still support an external keyboard.
Another one of Microsoft's stated goals in rolling out this redesign is to solve the multi-device problem for email: flagging something for later action on another platform rather than dealing with tasks directly. The new Outlook is more interconnected than ever before, so messages, documents, contacts and calendar events are only a touch away—going back to the desktop environment may just become superfluous. This could be a very powerful feature: no longer will it be necessary to invent ways to remember to return to deferred tasks at a later date, in front of a 'more appropriate' device.
In addition to features that users will be familiar with, the new Outlook app has a new inbox management tool. The inbox can be split into "Focused" messages and "Other" messages, allowing special attention to be paid to high-priority communication. White's post also states that, "if you move email in or out of your Focused inbox, Outlook learns this about you and gets even more tailored to your priorities." Smartphone, meet smart inbox. For even more information on the various new functions of the enhanced app, take a deeper look at Outlook for iOS and Android.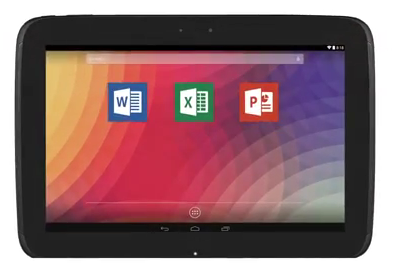 There is also some special good news for Android users: the entire Office Suite is now available for download onto phones and tablets running KitKat4.4.x, with support for Lollipop coming soon. CVP Kirk Koenigsbauer, in another post on the Microsoft Office blog, explains that Microsoft "designed these apps to be unmistakably Office, while optimized for Android tablets. Customers will immediately feel familiar with the Office ribbon. Large touch points make it easy for even the fattest of fingers to navigate commands." These are among a variety of brand new features created with touch interface in mind.
With the Microsoft products redesigned for the mobile environment, Office users will find it easier to create, share, and stay connected than ever before. For organizations negotiating a BYOD (Bring Your Own Device) policy, Microsoft is making it easier to continue using Office across those devices. Android and iOS apps are available for download now in their respective stores.