Microsoft Send app: The new In-and-Out email app
Last month, Microsoft released their Send app, an in-out-email app available through the Microsoft Garage. The purpose of the Send app is to send quick and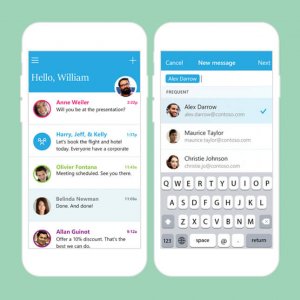 easy communications to people.
Send is currently only available for iPhone in the U.S. and Canada, but it is expected to come to Windows Phones and Android phones soon. The app works for people with Office 365 business and school email accounts, with plans on making the app more broadly available in the coming months.
Microsoft knows people want all their communications available in Outlook, even if they are sent and received in other apps. Send offers simple text message-like communications that allow you to reach all your co-workers and have your messages stored in Outlook for later.
So basically, with Send you can send any co-worker a message without a subject line or formal email message layout. Send makes it easy to send straight to the point, urgent and back-and-forth emails to the people that are important to you in your organization. There is no need for signatures, subject lines or salutations when communicating through Send.
Send connects with Office 365 business and school email accounts, accessing your frequent and recent contacts. So the people that you most likely will need to talk to are right at your fingertips. You can also just swipe and choose a Quick Reply like, "Be right there" or "Can I call you in 5 minutes?" You can see when someone is type a message or response, letting you know they have seen what you emailed and they are replying now.
Send only shows the emails that started in the app, keeping you in control of what you see. Send is currently working on bringing more IT controls to the app in the coming months.
Since Send is connected to Office 365 your conversations are synced with Outlook and you can continue your conversations with others anywhere from any device. You can message anyone with an email address, not just Outlook email address.
How can you use the Microsoft Send app to help benefit your workflow and productivity?
You can send faster emails when it's urgent.
You can communicate with your co-workers easily when in or out of the office.
Your messages will be saved in Outlook, so you can come back to them whenever you need.
Microsoft is interested in knowing what you think about Send, you can submit your feedback under the Help section of the app.