Microsoft StaffHub: Upgrading Managers and Staff Workers
There are millions of employees in the United States alone, that don't have their own office, desk, or computer to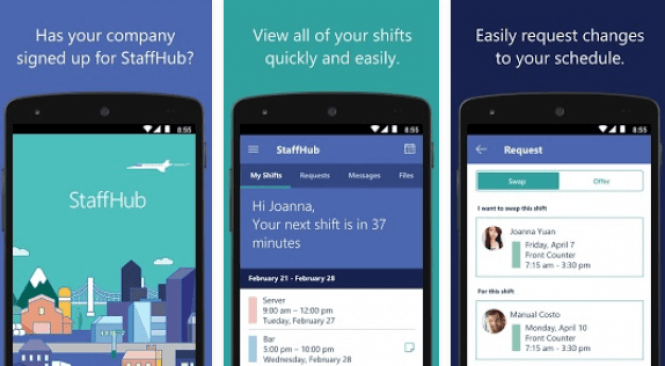 work with. This can make it hard to access, share and track workday information for staff workers and managers. In this digital age, it's about time we've figured out a better way for managers and employees without normal "office situations" to be as effective as possible in communicating about their workday information.
Earlier this month, Microsoft announced the general availability of a brand-new tool for Office 365 customers, Microsoft StaffHub!
What is Microsoft StaffHub?
Microsoft StaffHub is a new software application addition, to Office 365 users, that was designed to help staff easily manage, create and update their workforce calendar and schedules. With Microsoft StaffHub, you'll be able to manage your workday, schedule management, share your information and connect to other work related apps and resources.
How to Manage schedules with StaffHub?
With Microsoft StaffHub, you can create, update and manage your team's shift schedules. This is where managers will be able to greatly increase the labor-intensive process that is managing your staff.
As the manager, implementing Microsoft StaffHub allows you to quickly and easily distribute important information to your team. Information ranging from policy update documents, news announcements, videos and more!
Sharing with Microsoft StaffHub
Microsoft StaffHub has not only opened the door for managers to quickly distribute important information to their teams but can also send quick messages to team members, by clicking on a team member's name and typing the message. Employees can also send messages directly to each other, or they can send a message to the entire workgroup.
Employees will have access to all the shift's information, including the ability to easily swap shifts with others right from the Microsoft Staffhub app. As a manager using StaffHub, how do you think this can affect your workload?
Get Microsoft StaffHub connected
Managing your workforce can be time-consuming and tedious, that's why Microsoft is making it easy for Microsoft StaffHub to connect and communicate with existing systems that are most likely already in use in your business or organization. To make this work, Microsoft announced that StaffHub will support connections to Kronos, a workforce management, and human capital management cloud solutions provider. Connecting Kronos with Microsoft StaffHub enables managers to import schedule information of teams and individuals from Kronos Workforce Central platform straight into StaffHub. This is currently in private preview, only available to a small group of Office 365 and Kronos customers, but will be available to the masses soon.
Microsoft StaffHub also gives admin, the ability to define custom links for workers to view in the mobile app, directing your staff to important resources or sites containing HR systems for reporting time off, or other custom applications that can be built with tools like Microsoft PowerApps.
Microsoft StaffHub is currently available for Office 365 customers with the K1, E1, E3 or E5 plans. Team managers sign up at staffhub.ms, and employees can download the Microsoft StaffHub app on iOS or Android.
Microsoft StaffHub video (7:11)