Microsoft released a preview of Stream last year, but today has announced the worldwide availability of their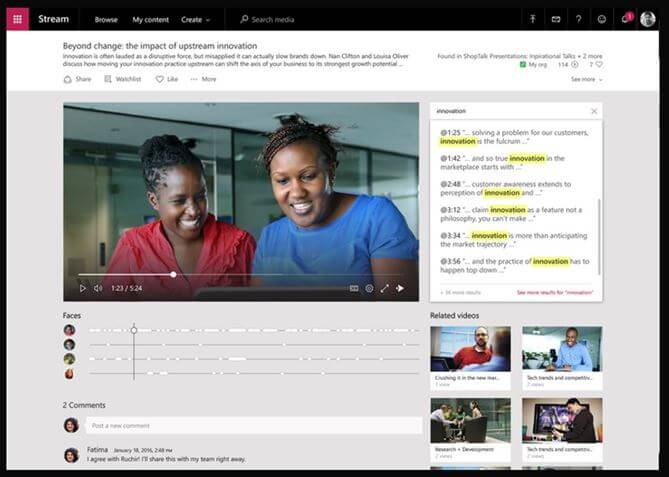 intelligent enterprise video service. With Microsoft Stream your organization can securely upload, share, manage and view videos. Microsoft Stream is now a standalone service as well as a service that's being added into Office 365 Enterprise plans in 181 markets and 44 different languages. Microsoft's also announced new intelligent features such as speech-to-text transcribed audio, face detection and linked timecodes.
A single video destination
Microsoft Stream is your single destination for video management, with Stream's built-in intelligence, integration across Office 365 and the security and IT management capabilities that all sized organizations need. Individuals using Microsoft Stream can contribute, search and discover all of your organizations videos. Office 365 Enterprise users can now seamlessly share videos inside Office 365 applications like SharePoint, Microsoft Teams and Yammer. Microsoft Stream is also integrated with Office 365 Groups, which means every group gets a designated channel, making it easier to manage your content across teams.
New intelligent features:
Speech-to-text-transcribed audio – Speech in video gets automatically transcribed, giving you quicker access to reuse and share what's being said within the video. This feature also allows for deep search within video via the transcribed audio.
Face Detection – Helps you visualize where each person is and lets you jump to important parts of the video by clicking on the speaker's timeline.
Linked timecodes – Timecodes are displayed within the comments section and are linked to the text automated text transcripts or table of contents, so you can easily maneuver to a specific point in the video.
Secure and connect to your video from the cloud
Microsoft Stream has built-in, industry leading encryption and authentication access for video to ensure users are sharing their content with their intended audiences. Intuitive security features that utilize existing organizational identity through Azure Active Directory and Office 365 Groups, making security management easy. Also, admin can add custom guidelines or require employees to optionally accept your organizational terms before they can begin to upload their videos. Videos provide a secure and utterly seamless viewing experience across different devices and screens also allowing you the ability of doing this anytime and anywhere. Your organizational videos uploaded through Microsoft Stream are more accessible, with features like closed captioning, keyboard navigation, high contrast and screen readers.
Three reasons why internal video is used by smart organizations
The information from video gets retained more readily because you are hearing and seeing the content, making you that much more engaged.
Anyone in your organization will be able to view videos from anywhere at any time.
Tracking how your video is viewed, how long people may have watched your video and how many times. Giving you in depth data on the success of your videos.
How can your organization benefit from using Microsoft Stream?