Microsoft Teams: Working with Files
On our previous Teams blog post and video, we went over working with conversations. This time, I'm going to delve into working with files in Teams.
Introduction
When working in a team, it's imperative that everyone has access to the files they need to expedite teamwork and stay on task. The beauty of Teams is, you always have access to all the associated files for your team, right inside Teams. So, when you're communicating on a project, in a meeting or working on some other task. You can always access the files you need without leaving Teams and searching through emails, cloud drives, hard drives, etc.
The no need to leave culture
When you're in your team, under the Files tab, you'll see all your teams' relevant files and documents. You can sort the list by most recently modified date (the default). You can also choose to sort the list by file name, file type, size, and document author or modifier.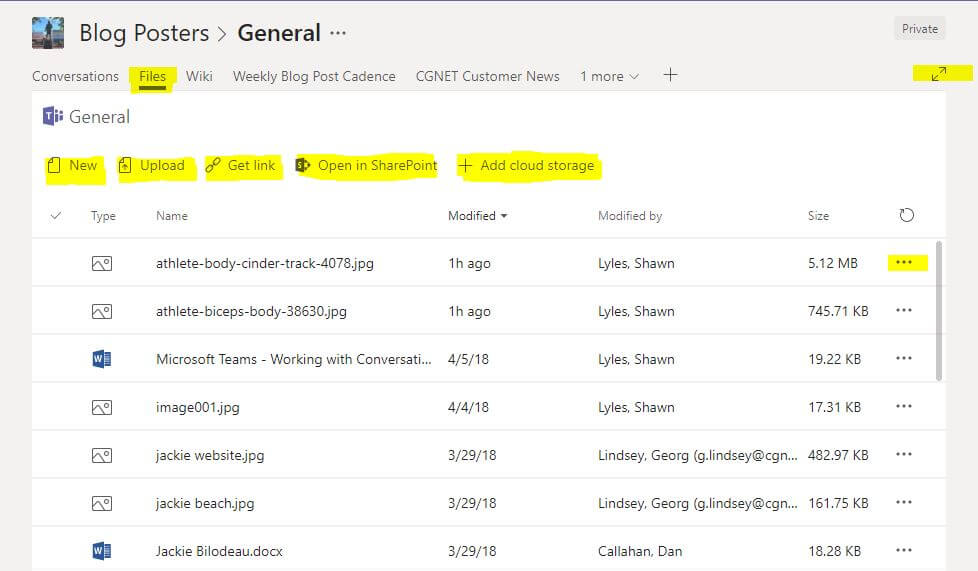 From here, you can create a folder, like a finished documents folder, a Word doc, Excel spreadsheet or PowerPoint presentation. You can upload pictures, videos and many other files. You can Get and share a link of your teams' file folder. The folder is a SharePoint Online site that was made and automatically associated with your newly created team. You can open the file in SharePoint Online, or you can add additional cloud storage accounts like another SharePoint site, Dropbox, Box, ShareFile or Google Drive. This way, if you have files on other cloud storage accounts, you can easily associate them with your team.
On an individual file basis, you have the options of opening the file in Teams or online. You can edit the file in the native Office application (such as Word) or its online equivalent (such as Word Online). You can move, copy, download, delete, rename and get a link for each of the files in your teams file tab.
You can also expand the files tab to work with it in a separate window if you prefer.
My thoughts
I've personally noticed that Teams has had an impact on my workflow and focus. For instance, today I demonstrated the ability to have all your related team files in one place, easily accessed, edited and shared.
Next week I'll be going over working with tabs in Microsoft Teams.