The Microsoft Teams platform lets you utilize collaboration and localization of all your related team's files, PowerPoint presentations, Excel spreadsheets, planners and much more through tabs. With tabs, you work with your team but avoid the distraction and hassle of opening or minimizing windows, typing or copying/pasting URL's.
Tabs in Teams allows you to integrate the tools, services and websites you use most, right inside your chat or channel.
Tabs are located at the top of your channel and by default, come with a few useful tabs already set up. The Conversations tab lets you view a history of your team's discussions. You can reply to any discussion or send a message to everyone on the team. The Files tab takes you to all your team's stored files. The Wiki tab lets you post free-form content. This content might include meeting notes, draft documents or photos and tables.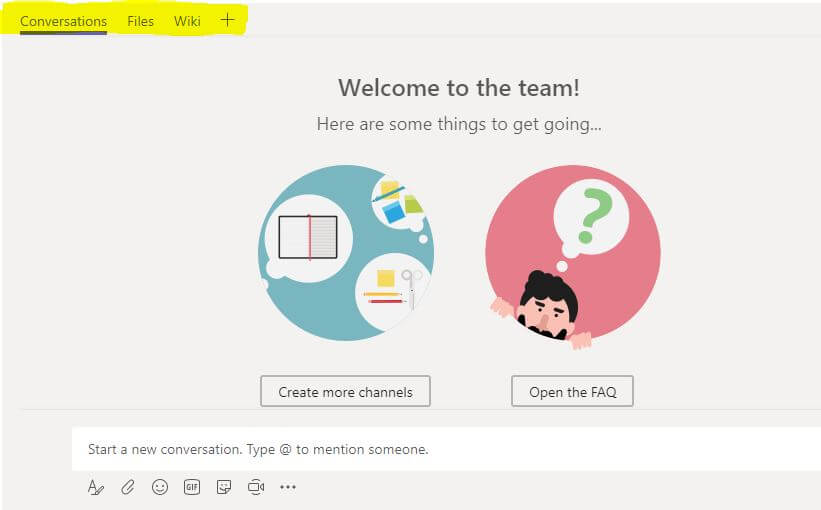 How To…
Let's look at adding some tabs, creating a custom tab and going over some tab ideas to increase your team's productivity.
Add a Tab
To the right of the Wiki tab, you'll see a + button, that's the button you use to add a tab. Once you click on the +,  an Add a tab window will pop up, offering you different tab options. As you can see from the image below, there are lots of different kinds of tabs you can add. They range from adding a tab that connects to a document library from another team or SharePoint site, to adding a Visual Studio Team Service tab and the many other tab options in between.
Just click on the tab you want to add and you're done! That tab will show up next to the other tabs at the top of your Teams work-space.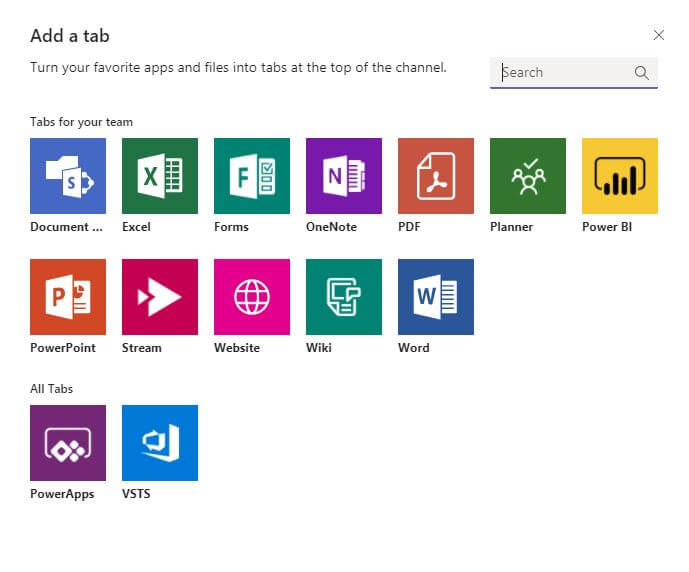 Create a Custom Tab
To create a custom website tab, click on the + button and choose the Website icon to assign a specific website/page to a tab. Once the website window pops up, give the tab whatever title you see fit. Next, type or paste the URL of the web page you want to add. If you leave the box checked, that indicates you want to let your team know of the newly created tab with an announcement in the Conversations tab.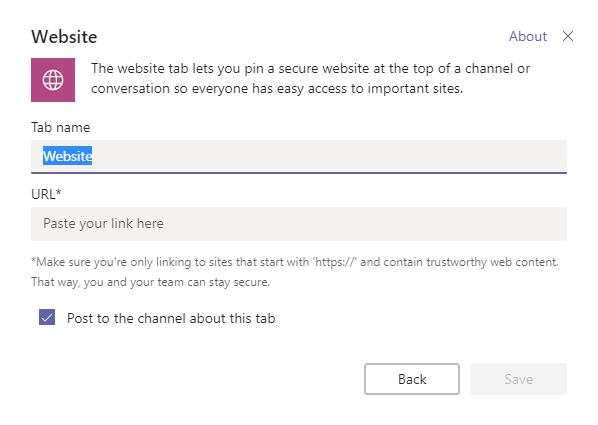 Some Additional Tab Ideas
Here are some other ideas for tabs that might be useful for one of your Team sites.
OneNote: OneNote is a handy note-taking tool. It's useful for capturing meeting notes. You can even have multiple people add to the notes.
Planner: This tool is great for organizing people and tasks. It's much simpler to use than a traditional project management tool.
Web resources tab: You can add news sites, blogs, and forums that make you more productive, or keep you updated on your industry and customers.
CRM tab: You can track, edit and process customer sales and marketing data.
Analytics & Tracking tab: Track your website's user data, an online campaign that you're promoting or usage of a new app you've released.
Social Media tab: Work on your social media campaigns or thank donors from your favorite social media site.
Wrapping it All Up
Customizing your team's tabs and finding new ways to expedite your team's work and productivity is what tabs are all about. Try adding a tab to one of your teams and see what people think!
In my next post, I'll be talking about Microsoft Teams and working with the Wiki tab.