Microsoft Teams: Working with the T-Bot
What are Bots?
Bots are automated programs that notify users about the information they are interested in. Bots also respond to queries, and allow users to interact with scheduling, polling and task management cloud services.
Teams bots are built on the Microsoft Bot Framework and are supported in private chats and channels within a team. Administrators control if bots are activated or deactivated within your organization's Office 365 tenant. Team owners and team members can both add bots within a channel.
What is the T-Bot?
The T-Bot is Microsoft's help bot, that comes automatically set up within your chat window.
Why Use the T-Bot?
T-Bot helps you and your team members learn how to use Teams by giving you answers to the various questions you ask it. You can ask a question or type a keyword or phrase in a new chat with T-Bot to get the answer you're looking for. T-Bot also assists users who prefer browsing content instead of asking questions. The content gets offered as Help, FAQ, Videos and Release Notes within sections of the tabs in T-Bot.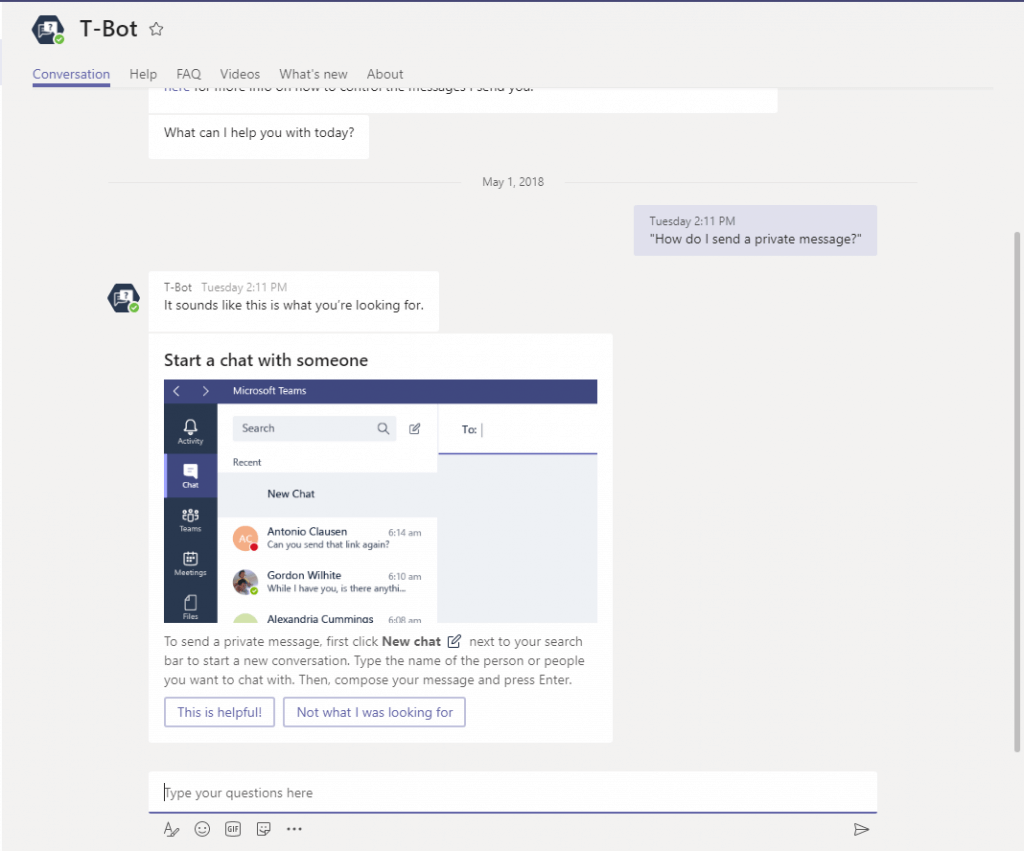 The T-Bot can assist your organization in adopting Teams. Have your users get started with Teams by asking the T-Bot questions about Teams.
Teams provides language support for T-Bot and the help content, with new languages being added all the time. You can check out the supported languages for T-Bot and help content here.
Next video, I'll be doing a demo on Slack.