Mobile Device Management for Office 365
Desktops, laptops, smartphones, tablets, wearables—in the twenty-first century, no one has to conduct business on only one device.  However, for organizations that wish to develop Bring Your Own Device (BYOD) policies, maintaining the integrity of protected data can be a challenge.
In Spring 2015, Microsoft has announced that Office 365 commercial plans will feature increased functionality to accommodate BYOD organizations. These built-in Mobile Device Management capabilities are now available for no added costs in all Microsoft Office 365 commercial plans, including Enterprise, Business, Government, and Educational plans. The Office 365 MDM features are able to handle not just Windows devices, but those running iOS and Android as well, allowing organization BYOD policies to be even more flexible.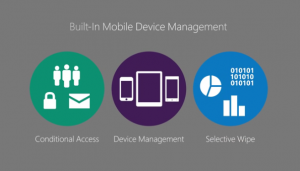 The Mobile Device Management capabilities are centered on three key areas, all controlled through the Office 365 Admin Center:
Conditional Access: security policies can be set up for each user to ensure Office 365 documents are accessed only on compliant devices.
Device Management: jailbreak detection and pin locks can be set to prevent unauthorized use.
Selective Wipe: organization data can be removed from devices remotely while leaving personal data intact.
Additional expanded Mobile Device Management can be done via Microsoft Intune. Intune requires a paid subscription, and the built-in versus add-on features include mobile application management, which can control save and cut & paste function in certain programs on specific users' devices.
These MDM tools will allow any organization to take advantage of cloud storage and remote access tools such as OneDrive while maintaining their security.