Monitor Trending Malware Campaigns with Threat Trackers from Office 365
What if your organization could spot trending malware attacks, notify you if issues exist in your Office 365 environment and use saved queries that run automatically to give you up-to-date information on the Office 365 activity in your organization?
With the introduction of Threat Trackers from Office 365 Threat Intelligence, your organization can do this and more.
What are Threat Trackers?
Threat Trackers are views and widgets that provide information on different cyber security issues that could affect your organization. Threat Trackers can give you a heads up on security breaches observed in your Office 365 environment. But what's especially cool is that Threat Trackers also provide information on breaches observed in other Office 365 environments. Think of this like crowdsourcing threat intelligence.
Most of your tracker pages include trending numbers that are automatically updated, widgets that show you which issues are the biggest and the ability to use the Explorer in the Actions column to view more detailed information.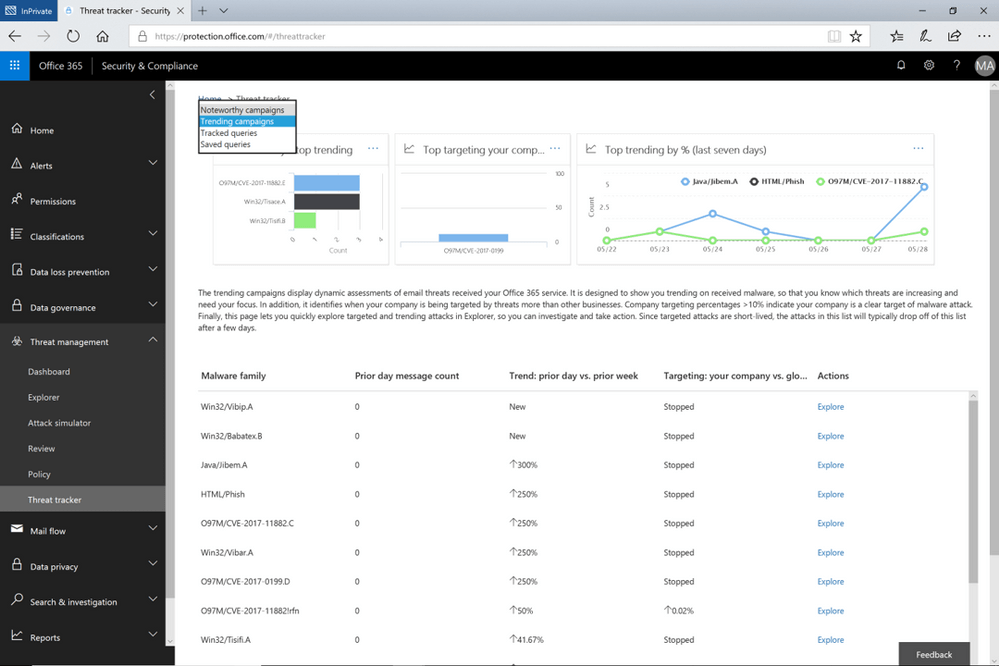 Available Threat Trackers
Here are the different kinds of Threat Trackers being delivered.
Noteworthy trackers – These trackers will show you all types of risks and threats that Microsoft thinks you should know about. Noteworthy trackers can help you find whether these issues exist in your Office 365 environment. You will also get links to helpful articles that go into detail on what's happening and how it will affect your organization. The list of noteworthy trackers will update based on the latest information on security threats in the wild.
Trending trackers – This type of tracker highlights threats based on examination of your organization's email. These are threats you will want to review, to ensure your organization is on top of attacks.
In addition to trackers, you can create and save queries, if you want to see information about specific kinds of threats. What's nice here is that these queries will automatically update; you don't have to remember to re-run the queries (thank you!)
Accessing Threat Trackers
To access Threat Trackers for your organization, go to the Security & Compliance Center. From there, scroll down to Threat Management then choose Threat Tracker. Only Office 365 Global Administrators, Security Administrators, or Security Readers can use Threat Trackers.
How Do I Get This?
Advanced Threat Protection is included in Office 365 E5 and Microsoft 365 Business (which is not the same as Office 365 Business). If you have a different plan, you can add Advanced Threat Protection by purchasing a subscription. You can buy Advanced Threat Protection on its own, or as part of the Enterprise Mobility and Security subscription.
If you're interested in learning more about Threat Trackers or you'd like to get Office 365 for your organization, let us know.