Coming in late 2015 is a promising new system from Microsoft dubbed Surface Hub. With the integration of a handful of new hardware and software features, Microsoft Surface Hub is a multi-device interactive interface designed for collaboration.
The centerpiece of the system is a giant all-in-one computer, in one of two available display sizes: 55-inch HD or 84-inch 4K. Employing Microsoft's OneNote, users can interact with the touchscreen directly—as if it were a giant tablet, hung on the wall—or use the two rechargeable pens to write or annotate on the screen. OneNote allows projects to be synced or saved, so the final product can be easily taken mobile on other devices. Connect any compatible phone, tablet or laptop, and project changes can automatically populate out.
Microsoft Surface Hub will ship with the Office Suite, be able to run any other Windows 10 app natively, and stream non-Windows apps from a personal device. Using the two built-in cameras and stereo speakers, remote participants can easily join in using Skype for Business, making this new version of telepresence even closer to actually being there.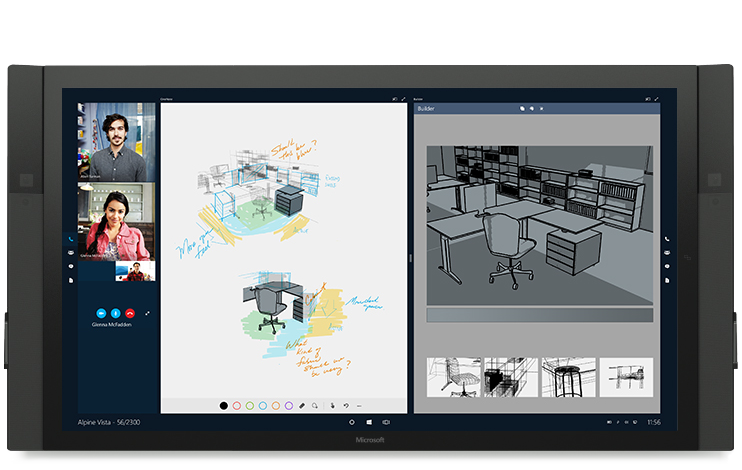 All of these features and more make the Microsoft Surface Hub, in the words of James Trew of Engadget, "the most elaborate intelligent whiteboard you can imagine!" The versatility of such a system is indeed exciting, and Microsoft is making some bold promises in their marketing materials. Surface Hub is a system that will be eagerly awaited by those in need of a good solution for managing clients, vendors, and colleagues in multiple locations. With tools like this, geography may become even less of a factor in getting things done.
As of the end of January, Microsoft has not yet announced price points or release dates, but demo units will be available at various events through July 2015.