Office 2016 for Windows is here!
Yesterday, Microsoft announced the worldwide release of Office 2016 for Windows. This release adds new value to Office 365 customers,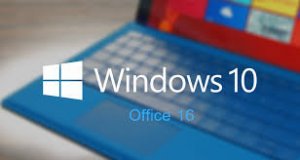 with collaboration, apps and security features that you will appreciate.
Microsoft is also saying this release will mark a new model for delivery, where customers can expect to get more frequent updates with new features and improvements.
Today, Microsoft not only released Office 2016 for Windows. They also released Office 2016 for Mac as a one-time purchase option, along with new and enhanced Office 365 services.
Collaboration in the new Office
The way to get things done quickly and efficiently in the workplace is by collaborating, but the collaboration process can sometimes be unintuitive. Microsoft knows this and they set out to make working together easier and more effective. By building a suite of integrated apps and services that removes barriers and empowers teams to advance and accomplish greater things.
What's new in Office 2016:
Real-time co-authoring: Is now being built directly into Microsoft's native apps. Making co-authoring in Word real-time, which will let you see what others are writing immediately, as it is happening. Microsoft is looking to expand real-time co-authoring to each of their native apps over time.
Skype for Business: Is now available in the client apps, allowing you to IM, screen share, talk or video chat right within your docs. This experience will be coming to Office Online later this fall. Now Skype for Business also has faster screen sharing and now adds the option to start a real-time co-authoring session from any meeting or conversation.
Office 365 Groups: Is now available as part of Outlook 2016 and in a new Outlook Groups app on IOS, Android and Windows Phone. Office 365 Groups allows individuals to quickly create public files, and a shared OneNote Notebook to help you and your teams stay productive.
Office 365 Planner: Lets you create new plans, organize and assign tasks, set your due dates and update status. Office 365 Planner helps keep you informed on your overall process with the visual dashboard. Planner will be available in preview to Office 365 First Release subscribers, starting next quarter.
GigJam: Is an amazing new way for teams to accomplish tasks and transform business processes by breaking down the barriers between your devices, apps and people around you. GigJam will be available as part of Office 365 in 2016.
Office 2016 for the Enterprise
Office 2016 apps working with Office 365 offers the most secure Office by far. Microsoft is building in Data Loss Prevention (DLP) to dramatically reduce the risk of leaking sensitive data by giving IT admins tools to centrally create, manage and enforce policies for their content authoring and document sharing. Multifactor Authentication makes sure you have secure access to your content anywhere when you might be away from the corporate network. Microsoft is also adding Information Rights Management to Visio. In addition Microsoft also stated that later this year they will be enabling Enterprise Data Protection (EDP) in Windows 10, with support in Office Mobile, allowing for more secure corporate managed apps and network/cloud locations. This will prevent content from being shared outside of your organization. There will be a follow up to EDP for Office on Windows desktop in early 2016.
Office 365 customer value ongoing
The feel of Office on Windows is transitioning to feel more like Office mobile and web apps. The Office mobile and web apps have releases every month and are focused on adding real value. Office 365 customers can now expect new features and capabilities delivered continuously in the Office desktop applications as part of their subscription.
Here are some examples of the types of new features and benefits Office 365 customers will get:
Teamwork: Microsoft is implementing rich co-authoring and collaboration across all of their native clients, starting in Word 2016, with other big advances in collaboration coming throughout the year. So by the end of 2015, Microsoft will introduce Office 365 Groups insights and discovery in Office Delve. Also Office Delve will have new and improved analytics that will help with understanding how your presentations reach and impact others.
PowerPoint: New charts, formulas, connectors and other capabilities will be delivered throughout the year.
Windows 10: Cortana will continue to grow in value for Office 365 customers, with insights from Office that will unlock helpful scenarios, like retrieving your documents, preparing for meetings and much more.
Where can you get Office 2016?
Interested in buying Office 365 to get the new 2016 apps? Contact us now!
Are you looking to upgrade? Click here to get instructions on how to upgrade to Office 2016 for Home, or here for business customers.
You can also check out Office.com/2016 for more information.