Office 365 Admin Center Preview
There have been some major changes made to Office 365 Admin Center Preview. With the new changes, Microsoft is aiming to empower Office 365 IT administrators with better scalability,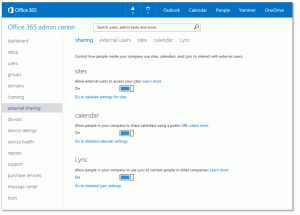 insightfulness and information.
The Office 365 Admin Center has a new look, from the dashboard, down to how you access tools. It is now easier to complete common tasks without leaving the dashboard; like adding new users, resetting a password or even just checking your monthly bill.
Microsoft's goal is to make the Office 365 Admin Center more intuitive and achieve more, by being able to quickly get through your needed admin tasks with no searching necessary.
Microsoft will continue to expand on the Office 365 Admin Center, so users can take advantage of the new features. Not all the features are available yet, and Microsoft will keep Office 365 users abreast of the updates. Even though the Office 365 Center Preview user experience is being simplified, the capabilities aren't being removed. Users will have the ability to customize their dashboards to find the tools that are the most relevant to their organization.
The left side navigation menu lets you dive deeper into advanced tools and controls that will give you access to specialized portals like the Exchange Admin Center. These tools are for Office 365 admins that require more advanced features.
The admin experience
Microsoft is saying that the rollout will start with a set of small business and First Release customers. It's still early in the Office 365 Admin Center Preview release and all the features are not available yet. Microsoft has made it clear that they are interested in collecting feedback from users to help build their product into something that will help Office 365 Admin Center users really achieve more.
How to become a Microsoft First Release customer?
Sign in to Office 365 with your work or school account.
Go to the Office 365 admin center.
Go to Service settings > Updates.
Select your First Release option: Entire organization (get updates early for your whole organization) or Select people (pick people who you think should be able to preview updates to prepare your organization).
If you are interested in giving Microsoft your feedback, there is a feedback widget on the bottom right corner of every screen.
Let us know what your thoughts are on the Office 365 Admin Center Preview.