Office 365 adoption content pack in Power BI is now available for Public Preview
In the first quarter of last year, Microsoft introduced usage reports in the Office 365 admin center. It's been useful for admin in gaining insight into how their organizations Office 365 users are adopting to the Microsoft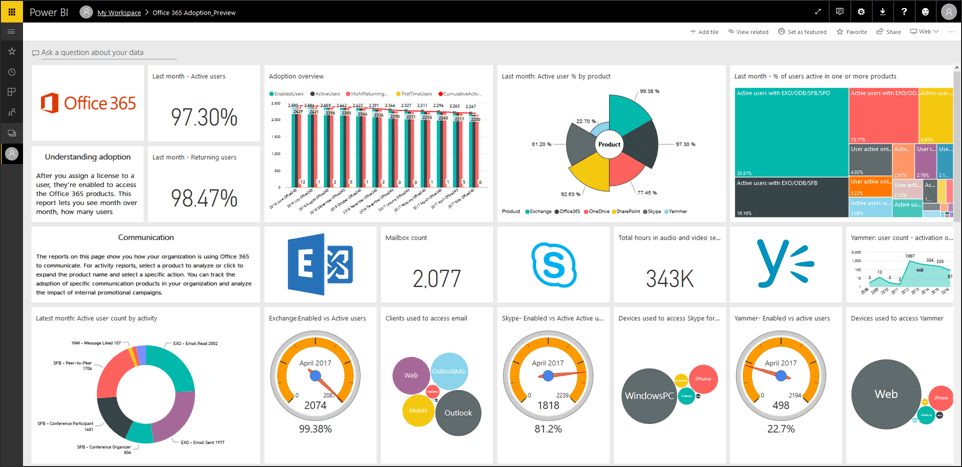 services. Earlier this week Microsoft announced the public preview of the Office 365 adoption content pack in Power BI, which lets customers get more out of their Office 365 data.
The Office 365 adoption content pack uses the intelligent data from your Office 365 usage reports with the interactive analysis capabilities of Power BI. Together this provides rich usage and adoption data from office 365 users in your organization. With these insights and data, admin can present and implement trainings and communication to fill in possible gaps and collaborate more efficiently throughout your organization.
Data you can use
Office 365 gives you the freedom to work from anywhere and the services needed to be more collaborative and productive. Some users will need assistance with getting started with some of the 365 services. Being able to see where there may be a gap in user usage, as an admin you can communicate with those users and get them the necessary training to help benefit them and the organization.
The new Office 365 adoption content pack gives you a cross-product view of how your organizations users are communicating and collaborating. When you better understand how your organizations Office 365 users are adopting the various services, it is easy to figure out where you need to dedicate the training resources needed to educate users on how Office 365 services will benefit them and the organization.
Deep insights on usage trends
The centerpiece of the content pack is the pre-built dashboard, which provides IT admin with a cross-product view of how users are accessing the suite of products within Office 365. For most of the metrics, the content pack provides data for the last 12 months, so as an IT admin you can see how usage is trending and has evolved over time.
The content pack's dashboard is split up into four main areas that each provide you with specific usage insights:
Understanding adoption – Offers an all-up summary of adoption trends that helps admin understand how users have adopted Office 365. With this area, it's easy to see how many licensed users actively use the various Office 365 services, what are the most popular combination of products used within your organization, and analyze adoption trends for individual products.
Communication area – Highlights the services that used for communication, like Skype for Business, Exchange and Yammer. You can see which communication methods are used by most users and drill into details to understand if there are any shifts in how employees use the various tools to communicate.
Collaboration area – Shows you how people in your organization use OneDrive for Business and SharePoint primarily to just store files, or if they are also using these services to share content and collaborate with others.
Activation area – Helps you understand Office 365 ProPlus, Project Pro and Visio Pro activations in your organization. You can easily see how many users have activated the products, enabling admin with the ability to ensure that users have the latest versions of Office applications. The report also provides information about the type of device users have activated the products on, helping admin to understand what devices are popular in their organization and how many users work on the go.
Richer usage insights and data
Every organization has their own unique set of questions around usage and adoption. The content pack helps answer these questions, by enabling you to pivot, analyze, customize and share information.
Analyze usage by department, organization or location – Admin want a full picture of how specific departments or regions use Office 365. To enable these advanced analytics scenarios, the content pack combines the usage data of your organizations Office 365 users with their information in Azure Active Directory (AAD). You can pivot the reports by AAD attributes like location, department or organization information.
Use the built-in features to get insights relevant to you – On many reports, contextual filters allow you to easily slice and dice the available data, for doing things like being able to understand adoption trends for individual products.
Quickly find out who your power users are – The content pack includes a user activity report for each service to identify your organizations power users. These users usually have very thorough product knowledge and can help train other users. They can share how they are using the services, how it helps their workflow and productivity and they can also offer tips on how to get started. Power users can also help lead a digital transformation in your organization by leading by example. The user activity report lets you identify users that have yet to use a specific product. Armed with this information, you can be very targeted in your adoption campaigns in getting your users on board using the services necessary to advance in their position and increase the productivity of your organization overall.
Customize the content pack – The dashboard and the underlying reports are templates to help you quickly get started with the content pack. The true power of the content pack lies in the underlying data. Microsoft wants admin to have full control over their data, so they have made sure that admin users can customize the content pack and structure the charts based on your organization's needs.
These are three ways to customize the content pack:
Take one of the pre-built visuals and modify it-by removing information or by changing the visual
Create a brand-new visual by using the underlying data sets.
Connect to the pbit file in Power BI Desktop, which enables you to bring in your own data sources.
Share the content pack – With Power BI Pro you can easily share the content pack dashboard with both people inside and outside of your organization.
Getting started with the content pack
The content pack is available to all Office 365 customers free of charge. You only need the free Power BI service to connect to your content pack. You'll need an Office 365 admin account to sign up, but you'll also be able to customize the dashboards and reports with the free Power BI service. To connect to the content pack, you'll first need to enable it in the Office 365 admin center. You can enable it on the Usage Reports page, you'll see a new card at the bottom of the page where you can opt in to the content pack. This initial step will start a workflow that generates your historical usage trends. The data processing can take between 2-24 hours, depending on the size of your organization and how long you've been using Office 365. After the data preparation is complete, you'll be ready to access the content pack.
More information on working with reports and enabling the Office 365 content pack below:
Enable the Office 365 content pack