Office 365 Exchange Online Archiving has now Meet the SEC Rule 17a-4 Requirements
In-Place Archiving for Office 365 offers a huge amount of storage and incorporates a seamless archiving experience. Microsoft has seen incredible adoption in the marketplace with several million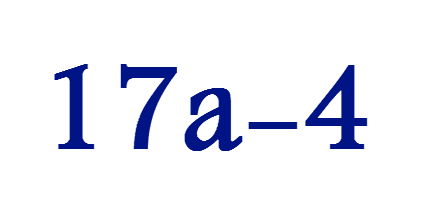 archive mailboxes being used in Office 365 today.
What is In-Place Archiving?
According to In-Place Archiving is a service that helps you regain control of your organization's messaging data by taking away the need for personal store (.pst) files that allows users to store messages in an archive mailbox.
A percentage of Microsoft's customers have industry-specific regulatory requirements on how they keep their records. These customers include banks and broker-dealer organizations, that are subject to Rule 17a-4 issued by the Securities and Exchange Commissions (SEC) regarding electronic data storage. Rule 17a-4 has specific requirements that pertain to length, format, quality, availability, accountability and many other aspects of record retention. SEC-regulated customers in technology adoption will decide on which archiving solution they will use primarily on weather the solution meets Rule 17a-4 requirement.
Last week Microsoft released a Exchange Online Archiving (EOA) whitepaper that is specifically related to Rule 17a-4 requirements. Microsoft says that the whitepaper will provide an in depth analysis of Exchange Online features and functionalities for all of the requirements needed under Rule 17a-4. With additional demonstrations on how regulated customers can meet these requirements with EOA.
You can download the white paper now.
Does your organization need help getting set up? Contact us with any questions!