Office 365 Migration: Planning and Preparing Your Organization for Success
So your organization has decided to migrate to Office 365, but you are not prepared, you don't know where to start, or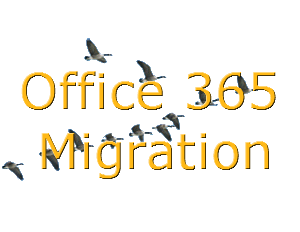 you just need some insight on migrating to Office 365 without any issues. This blog post is written to help your organization prepare for a smooth, clean and hassle free migration planning process. I am going to go over the planning and preparation steps that will help your organization succeed with your Office 365 migration.
The goal of your organization is to have less risk and as little impact on your systems as possible when you are migrating to Office 365. Your organization also needs to make sure that your legacy platform and Office 365 are both working to maintain user productivity throughout your entire Office 365 migration.
[message_box title="Email Migration" color="green"]If you purchase Office 365 between September 1, 2014 and March 31, 2015 you may be eligible for the Office 365 Adoption Offer. This offer allows you to have Microsoft perform your organizations email migration working with you or your Microsoft preferred partner.[/message_box]
Planning for your Office 365 migration
The decisions you make and the planning process you take before installing Office 365 are crucial. Once you commit to your installation much of what you have done cannot be reversed, so it is important to have a plan of action that takes into account different variable that might hinder your Office 365 migration.
What you will need:
To know how many tenants you will need
To know the preferred sign on method
Domain names and DNS
Where your organizations employees are located
Users and Admin
Security and Distribution groups
Resources and Conference rooms
Hardware and Software in your organization
Phone and voice mail interactions
What should be in your plan:
Defining and planning your migration schedule
Validating custom domains
Software deployment
Choose a plan before you start a trial version
Explore third-party migration services and tools that can help
Make sure you have the proper technical support
Create a URL cheat sheet to make sure you have all your URL's accessible
Let everyone in your organization who might be impacted by the Office 365 migration know when it is taking place
Let your users know about your Office 365 migration, how it may impact them and what to expect.
Preparing your Office 365 migration
Preparing your DNS to be changed
Prepare on-premises Active Directory
Configure directory synchronization
Mailbox migrations
Login and licensing for users and admin
Office 365 training
Have support available if issues arise
Exchange server migration
Migration to SharePoint
Configure Exchange hybrid deployment
Configure end user experience
Your
Office 365 migration
may not be a quick and easy task, but if you plan and prepare accordingly your Office 365 migration can be successful without having any downtime or user impact. This is the goal and if you are not prepared with the right tools, customer support and knowledge your Office 365 migration can become a disaster very quick. Let us help your organization, with any part of your Office 365 migration process.