Office 365: The Road To a More Secure and Compliant Productivity Solution
At TechEd Europe on Tuesday, Microsoft released the next set of innovations in security, privacy and compliance capabilities of Office 365. This release included mobile device management capabilities for Office 365, expansion of data loss prevention (DLP) technologies and the availability of per-file encryption in Microsoft's productivity services.
Microsoft is paving the way for a truly secure productivity suite. Trusting your cloud service is vital, that's why Microsoft knows they need to keep data secure and be able to verify that independently, meeting the highest standards that are available for the top internet security possible. With the Office 365 productivity suite you can also tune up or down your security options based on your organizations needs.
What is Office 365 doing now for Mobile device management?
Microsoft is rolling out with new mobile device management capabilities in the first quarter of 2015. This new "roll out" will enable you to manage Office 365 data across a multitude of phones and tablets that include iOS, Android and Windows Phones. Tim Haight highlighted these new MDM features in our last blog post.
What is Microsoft Intune?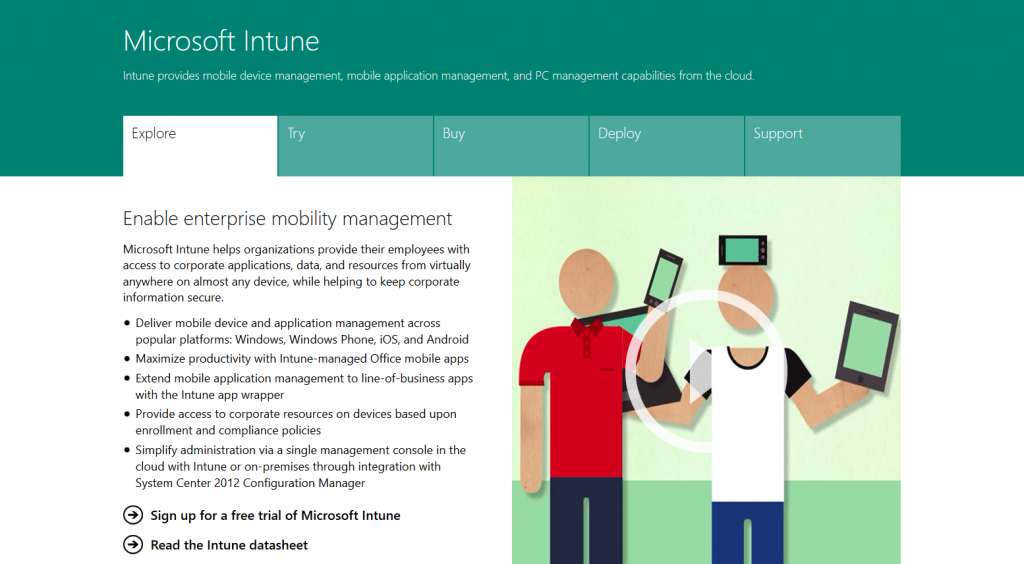 Microsoft Intune is an advanced mobile device and application management solution for phones, tablets and PC's. If your organization needs additional protection beyond what is included in Office 365, then Microsoft Intune will suite your organization well.
Image being able to enable your organizations data driven employees with different access levels than less data driven employees, while also disabling actions such as copy/cut/paste and save in your organizations managed apps. What if your organization was able to manage all your devices from the cloud or be integrated and connected to System Center 2012 Configuration Manager. These are just a few of the Microsoft Intune features we can expect to see.
How can these new features help your organization?
*Individualized device and batch device security policies can be used to separate accesses to different employees.
*Device settings that can be used to prevent unauthorized users from accessing organizational email and data information.
*Give your organization the ability to remove corporate data from the devices of employees that might leave or have been replaced.
The process Microsoft is taking shows me how much Office 365 is improving and how I expect that their products will continue to be more secure as the product matures.