Office 365 Training for Users and Admins is Easy to Find
Are you scrambling to provide training to end users for Office 365? Could you use some Administrator training for yourself?
You have a good starting point for learning right in the Office 365 Admin Center!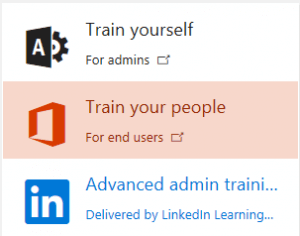 In the Admin Center, you can access training resources for admins and end users. And if you want more extensive administrator training, you can access LinkedIn Learning (fka, Lynda) for this.
End User Training
Clicking on the "Train Your People" box brings you to this training page. It's the Office 365 Training Center. There is training here for every type of user:
"Learn the basics" is a setof short videos for users just getting started with Office 365 or the latest version of Office
There is a section on tips for better using a number of Office 365 apps
You will find some nice infographics for Word, Outlook and PowerPoint
And there are quick start guides for those who prefer to learn with a document in their hands
I particularly like two of the tips from the Organize Your Inbox infographic.
Selecting Clean Up from the Delete group on the Outlook ribbon lets you delete messages in an email thread if you've already read them, and a subsequent email contains the same content.
Selecting Ignore Conversation from the Delete group will move all messages in a conversation thread to the Delete Items folder.
Training for Admins
If you follow the "Train Yourself" link, you'll be taken to this page. Here there are training resources for setting up Office 365 and handling common management tasks. There are also links to more advanced IT training, also offered for free.
Other Options
Of course, these are hardly the only choices for training that are out there. You can find training firms that provide in-depth training at their location or yours. Ping us; we have some people we can recommend. And there are training companies that provide a mix of learning media: documents, video, interactive and the like.
Keep Users Engaged
You know that your job didn't stop with getting Office 365 set up. It's important to keep users engaged with the service. You have to encourage and reassure late adopters that the tools are there to get their work done. As well, you have to keep ahead of the early adopters, who will be asking about new services like Sway and Teams. The good news is that you don't have to invent the training resources yourself!