Office Lens for Android is now available on the Google play store
A couple of weeks ago Microsoft Office released Office Lens for the Google Play store. Office Lens is an app that has the power to turn your Android smartphone into a pocket scanner that works seamlessly with your device. Over 130,000 Google+ community previewers tested and gave feedback on the app before the official release.
The concept of the Office Lens app is to be able to take a picture of written notes from paper, a meeting on a whiteboard, information on a flyer, business card or document and be able to crop, straighten and enhance the image. Then after the picture is formatted, you can save the image to OneNote or OneDrive and get it from all your devices or send it in an email.
With Office Lens you don't have to worry about misplacing important notes or documents anymore. With Office Lens document mode you can not only trim and size your documents easily but you are also able to convert the image to a word document to edit and make changes easily.
In Office Lens you can also Save your scanned documents to PowerPoint or convert it to a PDF. Throw away or recycle your notes, business card collection and paper documents that are now redundant thanks to the new Office Lens app.
How to use Office Lens
Step 1: Frame your shot – Open your Office Lens app, and take a picture of your document or whiteboard. Don't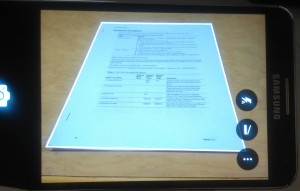 forget to frame your image to make sure that Office Lens can crop and straighten the document correctly.
Step 2: Office Lens crops your shot – Once you make sure your document or whiteboard is in the frame, and you take a picture. Office Lens will automatically crop and straighten the document for you.
Step 3: Share your pocket scan – The next step is to save and share your newly cropped document. You can save your document to OneNote, OneDrive, Word, PowerPoint, or PDF.
How Office Lens has changed our office workflow
We have done away with most of our conventional scanning and replaced it with Office Lens. The old physical scanner takes a while to load the software, scan and crop the paper document, and send out via email. Now our receipts, expense reports and "classified" documents can be scanned and sent back to the appropriate department quickly and easily with Office Lens. This can literally save us an accumulated couple hours a month just from transitioning from our old desktop scanner to Office Lens.
How will your organization or business use Office Lens?
Download Microsoft Office Lens: