Office Mobile apps for Windows 10 are now available
Last week, Microsoft announced the launch of their new Office Mobile apps for Windows 10. You can download and install the new apps from the Windows Store in 190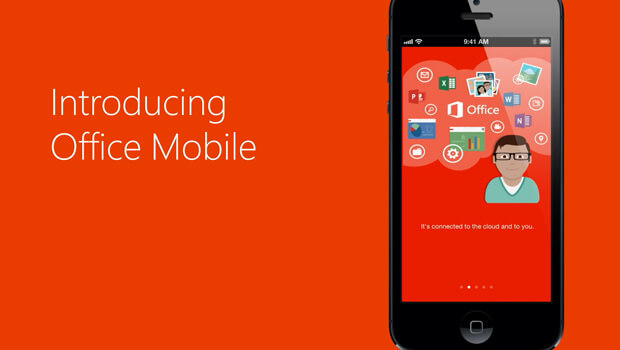 countries.
The Office Mobile apps consist of Word, Excel, PowerPoint and OneNote. The Office Mobile apps have been designed for mobility and touch, thereby delivering the capabilities that are needed for getting work done productively, on-the-go. Each app comes with full fidelity viewing of Office documents, and transfers perfectly across all of your devices. The Office Mobile apps are integrated with OneDrive and they are fully cloud connected, so you can access your documents from anywhere. The docs are automatically saved for you, so you won't need to worry about losing a document or a change that you made.
Office Mobile apps and features:
Word: Microsoft Word Mobile has the features you would expect for your touch-first productivity needs. All the formatting commands, styles, fonts and spell check tools are there. You can insert tables, pictures, text boxes, hyperlinks, and add header and footers. You can even add footnotes and endnotes, all from just your touch. With Office Word Mobile you can share and co-author with others, and utilize mobility focused features.
New Features:
Read Mode – Is a new way to view documents, Word flows with your screen's size and adapts your documents to improve visibility by automatically adjusting your documents' font sizes and gives you the ability to zoom on charts and tables with a tap.
Smart Lookup – Powered by Bing, presents you with additional resources like images and web references directly into your documents allowing for better insights and new ideas.
Excel: The power of Excel is now available for Windows 10 on your mobile devices. You can reorder columns, add formulas, change charting types, and filter data easily with Excel's new touch-first gestures. You also have the option to use the onscreen keyboard where you'll find the familiar controls made for touch, so you can even do advanced spreadsheet work on your tablet.
New Features:
Recommended Charts – Is ideal for devices with smaller screens, giving you the power to quickly visualize your data with a few taps.
New Templates – That are designed for mobile devices, so you can get to work faster.
PowerPoint: PowerPoint Mobile has the presentation capabilities you would expect, and more. With PowerPoint Mobile's touch-first design, you can create beautiful slides with the new touch gestures by inserting and editing pictures, tables, shapes and SmartArt. The same transitions and effects that you are familiar with on the PowerPoint desktop version are also in PowerPoint Mobile.
The presenter view gives you full control over what your audience can see on the big screen and still shows you your speaker notes on your tablet.
New Features:
The new ink, laser pointer and highlighting features let you emphasize what you need to when you are presenting.
OneNote: With OneNote Mobile, you can type, write or draw, and find all of your notes with super faster searching capabilities. Allowing you to breathe life into your notes with tables, pictures, and even share your notebooks so you can work with others at the same time.
*Do you have a tablet with Windows 10?
As of last Wednesday July 28th, you can download Word Mobile, Excel Mobile and PowerPoint Mobile from the Windows Store. OneDrive is pre-installed on your Windows tablet or device, and it's accessible from your Start menu.
*Do you want access to all of the latest Office experiences on all of your devices?
Customers with an Office 365 subscription can now use the Office desktop and mobile applications to get access to Office 2016 and the latest features as they become available.
How will these new Office Mobile apps change the way you or your organization works? Let us know and we will add your stories in our next Office mobile blog post.