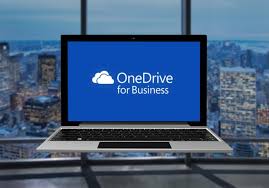 OneDrive for Business has lots of reasons to be the file sync and sharing technology for nonprofits. For one thing, it's free! But until now, the product lacked an important feature. Now, it's got it.
What bothered me about OneDrive for Business was its basis in personal file sharing and sync. There was no central repository. Everything was on the personal cloud-based drive of one user or another. It was possible, of course, to build those repositories in SharePoint. But then you had two systems that didn't talk to each other. Plus, once you let users go in SharePoint, things stop being simple. But now, a tiny change has got OneDrive for Business and SharePoint communicating.
If you have OneDrive for Business, and if it's got the latest update, the main Documents page has a new item in the left-hand column, called "Site Folders." Click on this link and you will get a list of all the SharePoint document libraries that you are following. Following is pretty simple. When you're on a SharePoint documents library page, you just click the FOLLOW link. It's by the star in the upper right-hand corner. After that, whenever you want to go directly to that documents library page from inside OneDrive for Business, you just click on "Site Folders" and then click on the library.
This means that you can stay inside OneDrive for Business and do a bunch of stuff. Share files inside and outside your organization. Access files from all your devices. Sync with files on your devices, if you want. And now, you, and others, can also access document libraries that can serve as archives, repositories, team document collections, whatever, without having to switch over to SharePoint.
This means you can train your users to do all this things without their having to learn very much about SharePoint. OneDrive for Business has taken a step towards simplifying their product so it can compete with Box, Dropbox and all the other share and sync products whose main virtue is that they are easier to use.
OneDrive for Business Improved Search
Another neat thing is that when you search in OneDrive for Business, it now includes in the search any SharePoint document libraries you're following. This also makes it much easier to find stuff from inside OneDrive for Business.
Microsoft has lots of changes planned. Here's a recent Office Blog article about that. Things don't always show up when they're announced, however. Some of the features mentioned in the article have arrived on our site. Others have not. And I'm still waiting for my one-terabyte-per-user storage. But Microsoft is moving in the right direction, and, after all, managing the back end of Office 365 can't be trivial.
More and more changes are coming, too. This is a bit unsettling in some ways. For example, how is OneDrive for Business going to play with the file sharing features of Yammer? So we hope they get it right. But this change is encouraging.