Outlook On the Web Users:  Opt-in to Try Upgraded Features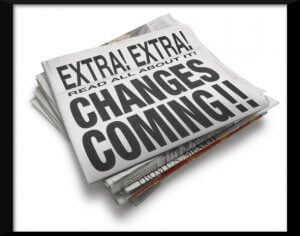 On September 10th, Microsoft will begin rolling out to targeted organizations an "opt-in" toggle so that users can try out an early version of the new Outlook on the web.  (By January of next year, Microsoft hopes it will be available to all Outlook on the web users worldwide.)   Allowing users to get a preview of the new version will enable Microsoft to gather feedback and continue to improve the product before it is ultimately released.
The "Try the new Outlook" toggle will appear in the top right of the user's inbox and can be used to opt-in and opt-out as often as desired. By turning it on, you will get to see all new Outlook on the web modules for Mail, Calendar, and People.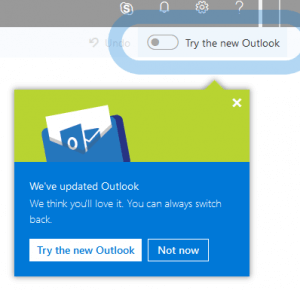 What are some of the new features you will be able to play around with? Well, such cool things as
• Advanced Search capabilities: Outlook anticipates what you might want to search for based on recent conversations and people with whom you have communicated.
• A new Files module in your Inbox that will save time by showing you all the files you've sent or received.
• Suggested Replies, which uses intelligent technology to offer you pre-written standard responses to common questions, which you can then either edit or send quickly on their way.
• Favorites, which allows you to prioritize specific folders, categories and people (like maybe your boss, ahem!) so that they are at the top of the sidebar and easy to find.
Other upgrades include things like simplified event creation, smart room suggestions (helping you locate the best room for your meeting based on attendees, time, availability and so on), a more simplified experience using add-ins of popular apps, and more ways to use and manage your groups.
So be on the lookout for that toggle, flip that switch, and give the new Outlook on the web a whirl!