Skype for Business: Lync Room Systems Has a New Look!
Yesterday Microsoft announced that they have rolled out with an update to all existing Crestron, Polycom and SMART Lync Room Systems. The new Lync Room Systems got their user interface (UI) and branding updated to Skype for Business. These updates will be applied automatically, or manually, depending on the policy set by the IT admin. The updates will not change Lync Room Systems functionality but will add a sleeker design, with a darker theme, that was created for large-screen viewing.
The new user interface:
The console, is positioned at the center of the meeting room table and it used to control the meeting room experience for members.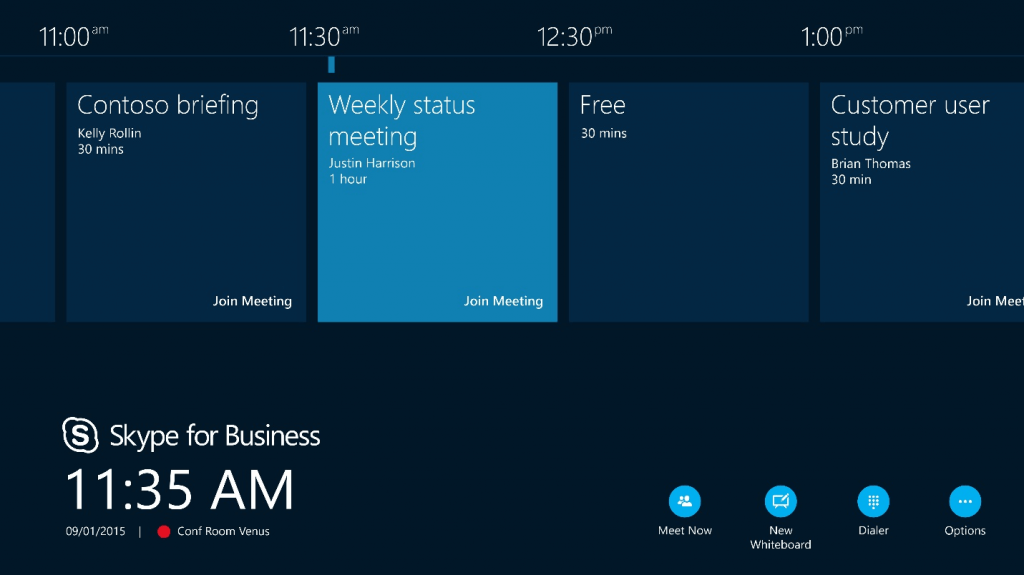 The design changes in the UI include, a dark background designed theme, round icons and presence indicator, plus branding with the Skype for Business Logo.
The in-meeting user interface of the console now closely resembles the Skype for Business look and includes a Pause Video, Mute Room and New Whiteboard, buttons that are specifically for meetings.
The video gallery in front of the meeting room on the displays has also been updated to the Skype for Business design.
System administrators should also note that the Admin user interface under Options > Settings has undergone minor design changes in the theme.
The New Private settings:
These new Private settings allow the room admin to turn the room calendar subject line visibility on or off. This new feature can be accessed on the console in Admin mode, under Options > Settings.
Recent updates:
Previous updates added new features such as the ability to directly project from a PC in the room into the meeting, redesigning the dial pad on the console, steps to add a Skype Meeting and the ability for IT admins to install anti-virus software on the Room System.
Future updates:
Microsoft said the new update will continue their mission to span a wider range of meeting room sizes and enable additional cameras and sound systems.
I really like that Microsoft Lync was rebranded as Skype for Business in the March 2015 update, so these "smaller" but effective cumulative updates are like the "icing on the cake" for me. I believe Skype for Business will continue to pleasantly surprise me with their future updates.