Skype for Business Phone System: Benefits of Cloud-based Calling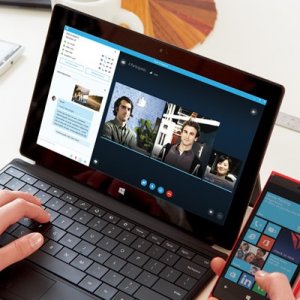 Imagine making a phone call, whether to one other person or a group of people, with just the click of a mouse.   And then having the ability to simultaneously – and even spontaneously – share information visually.   You are speaking with John and want him to read an article you just wrote?   Mid-conversation you can send him the Word file.   You are on a call trying to explain to Maria and Michael how a new program works on the company's network?  Share your screen and demonstrate it to them.  (Essentially, online show and tell, but with such ease you don't even have to get your IT department involved!)
Now imagine that during one of these conversations you realize you are running late for an off-site meeting.  You don't need to apologize for cutting your conversation short; just transfer the conversation over to your mobile phone (again, with some simple mouse clicks) and keep on talking as you drive to your next meeting.
Well, you can stop imagining, as this reality already exists in the form of the Skype for Business Phone System.
The Phone System add-on in Office 365's Skype for Business is a cloud-based telephone service hosted by Microsoft, which comes with a 99.5% availability guarantee. It gives you both traditional and innovative PBX capabilities, but without all the complicated and expensive equipment.  For a nominal monthly price per user license and low flat-rate calling plans, organizations can have a fully integrated communication system, where office phones, mobile phones and PCs all speak to each other seamlessly.  And all your organization needs to purchase by way of hardware are appropriate IP telephones and/or computer headsets.
As folks already using Office 365 know, Microsoft's products are designed to interact synergistically with one another.  If you utilize all of the services available through Skype for Business, including the Phone System, you can not only chat , video and/or audio conference and share any of your Office-based (i.e., Excel, Word, Outlook, Teams, etc.) files, but also make voice calls – both within and outside of your organization – that result in a consistent experience across multiple devices (PC, tablets and both mobile and IP desktop phones).  It automatically detects which devices are available for use, such as a headset, mic, speakers and cameras.  During the entirety of the call you have control, with just a mouse-click or screen-touch, as to which features you'd like to start or stop using.  With the Skype for Business Phone System, calling and sharing with colleagues becomes a simple and seamless experience.
Beyond the ease of communication flow that results from a fully integrated Microsoft Office 365 system, the Skype for Business Phone System has its own set of desirable features that stand out, such as:
The ability to answer inbound calls with a touch and initiate outbound calls either by dialing a full number or simply clicking a name in Skype for Business, Teams or Outlook.
Phone System "auto attendants" that utilize voice prompts to help incoming callers locate someone in your organization.
The ability to set up call-forwarding rules so your calls can go with you anywhere or can be forwarded to colleagues or voicemail.
Similarly, calls can be transferred to a different device (such as a mobile phone) mid-conversation so that you can continue a meeting or discussion even on the move.
Conversations from IMs, phone calls, or meetings are securely recorded and archived in your call history so you can reference them in the future.
CGNET, a Microsoft Partner, can help assess whether Skype for Business Phone System is right for your organization and what changes would need to be made to support it.  Once you determine you are ready to make the switch, we would conduct network engineering and plan out activities to upgrade your environment, and then follow through with phone number configuration, installation of telephone instruments and software, and user training.   And of course, once the new system is set up and working, CGNET will be there to monitor and manage the quality of your service, resolve any issues, and assure your satisfaction with the system moving forward.
For more information on Microsoft's Skype for Business Phone System, contact sales@cgnet.com and we can help you understand both the benefits and the process of getting set up.