Is There Something Fishy in your Network?
Phishing attacks are not what they used to be. Spammers and scammers are getting better with their tactics. In the old days of phishing, mass email campaigns led people to false/bad websites. Phishing tactics have since adapted to pursue targeted attacks that are not nearly as easy to identify. As a result, it has become easier to fall victim to phishing attacks.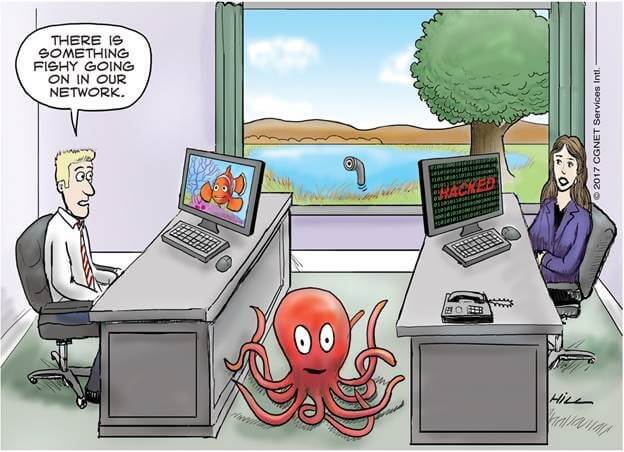 And with most networks operating under a "verify once/trust thereafter" security model, network access via successful phishing attacks is something to take seriously.
We are here for you should there be any creepy creatures lurking about. Or maybe you'd just like to know if there are some in hiding? Either way, we can test your network for you.
It's hard these days to put together an information security plan without feeling like you're "boiling the ocean."
What information needs to be protected, and what doesn't matter?
How much protection do you need, and how much is overkill?
How secure is your network?
Where might the security threats be coming from?
What is the right balance between "locking down" information and letting people do their jobs?
What's the most cost-effective way be secure?
Are you ready to respond to the inevitable incident?
Is cyber insurance the answer?
CGNET provides information security consulting, network testing, and cyber risk management to answer these questions. For 35 years, we've been helping organizations develop plans that are right-sized for their needs.
You don't need to solve all of your security problems right away. But you do have to start. And we're here to help.