Survey Reveals the Future of Cloud Adoption
The results of a recent survey conducted by BetterCloud indicate that more than half of organizations will be 100% cloud-based in less than five years. In a June 11th article in Forbes, BetterCloud's predictions were described as "point[ing] to a continuing acceleration toward cloud-based systems, which has ramifications for both IT and business leaders alike. Currently, 12% of companies run all of their IT in the cloud, so it looks like this number will quintuple over the next five years." The article also points out that most of the transition growth is in younger companies that already base some of their infrastructure in the cloud.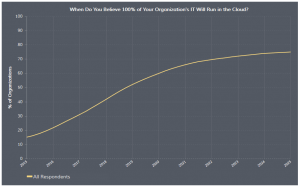 On BetterCloud's own summary of their findings, they describe the study parameters: "From a network of more than 95,000 IT professionals, we identified and surveyed 1,500 who represent organizations from 53 countries." The results of this "gigantic shift" are broken down in exceptional detail, and indicate a dramatic rise through the next decade, and then a gradual levelling off. Eventually, all those who want to—or able to—transition to the cloud will do so, and abandon the applications and processes they currently use.
The tide has clearly already turned, and the incentives to look into transitioning to the cloud grow stronger every day. CGNET continues to stand ready to assist with any and all cloud-related questions and concerns.