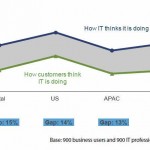 We've written a few posts on how we've seen a lack of communication between IT and the rest of the organization, and we're finding similar evidence of IT-user or CIO-CEO disconnect in recent posts on the Web. In fact, these guys are a lot more emphatic than we are. This is a surprise, since they're from places like Forrester and the Harvard Business Review.
Jim Stikeleather, Executive Strategist, Innovation at Dell Services, reported on the HBR Blog Network on April 25 about findings in research done by Dell, HBR, The Economist, CEB and TNS Global. He listed these key findings:
Almost half of CEOs feel IT should be a commodity service purchased as needed
Almost half of CEOs rate their CIOs negatively in terms of understanding the business and understanding how to apply IT in new ways to the business
57% of the executives expect their IT function to change significantly over the next three years, and 12% predict a "complete overhaul" of IT
Only a quarter of executives felt their CIO was performing above his or her peers
Meanwhile, in a thought leadership paper commissioned by BMC, Forrester Consulting reported in April on results from a study of 900 business users and 900 IT service providers in the U.S., Europe and Asia. They found "significant gaps in customer satisfaction" with IT services "which have a severe impact on business productivity."
The Forrester study found a gap of 15% between how IT thinks it is doing (better) and how users think IT is doing (worse). It also said that "46% of business users worldwide lose at least 10% of their productivity per month and 32% lose 10% to 25% of their productivity due to IT issues."
If what these studies are saying is true, it's time for IT to reassess what it's doing, and the first step is to really get communication with the rest of the organization in shape. It's quiet out there, too quiet.