The Matter Center for Office 365 is Microsoft's in-house legal software
For two years now, Microsoft's Legal & Corporate Affairs Group (LCA) has been working on creating an internal tool that would allow them to organize their legal matters and collaborate on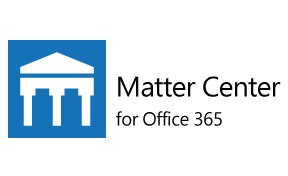 documents within Office 365. Microsoft's legal department wanted this tool to be an Office 365 Add-in, and they have accomplished that and named the Add-in: Matter Center for Office 365. The Matter Center is currently in use internally at Microsoft and is now becoming available to legal professionals at in-house departments and law firms of all sizes.
Microsoft has already shipped Matter Center to IT solutions providers who specialize in serving the legal community. Matter Center is currently only being offered on a limited basis, but Microsoft expects Matter Center will begin to be offered broadly in the coming weeks. Microsoft will also make Matter Center available broadly through GitHub later this year.
Once you have installed Matter Center you can create or view legal matters from within Outlook, Word, Excel, and OneNote. You can also securely collaborate with other legal professionals inside or outside of their organizations.
The benefits of Matter Center:
Access anytime and anywhere: Matter Center is available across all your devices like Office 365, and you can access matters and documents online or offline when using OneDrive for Business.
Real-time collaborations: The automatic version control feature for Office 365 lets you edit documents with multiple people at the same time, either inside or outside your organization.
Robust document search and data visualizations: You can search, preview and find matters and related documents across all cases directly within Outlook and Word. Power Bi can be configured to visualize your matter data.
Pinning and Tagging: You can track or pin frequently used matters and documents, then connect to Delve to provide personalized experiences about the people on your team who are working on them.
Compliance with security standards: Matter Center allows you to control who can access, review or edit a document. Matter Center also provides the same enterprise-grade security, management and administrative controls as Office 365.
Better flexibility with permission control: Offering Matter Center through an open GitHub repository will allow customers and partners to build or extend the solution to meet customer needs at a faster pace.
LCA initially conducted a preview program with nearly 200 law firms, partners and others in the legal industry. The goal of the preview program was to get feedback and tailor Matter Center for Office 365 to be able to boost productivity for legal professionals.
If you are looking to run Matter Center in the cloud, you will need Office 365 and Azure subscriptions. Matter Center was designed to support multiple deployment configurations as well, whether on-premises or hybrid cloud.
If you are interested in more information about Matter Center, visit the website here.
LCA Matter Center Video