URL Detonation and Dynamic Delivery now available in Office 365 Advanced Threat Protection
We've all heard of the Nigerian prince email scam and the phony IRS email phishing schemes. So, having a service like Microsoft's Office 365 Advanced Threat Protection continuously adding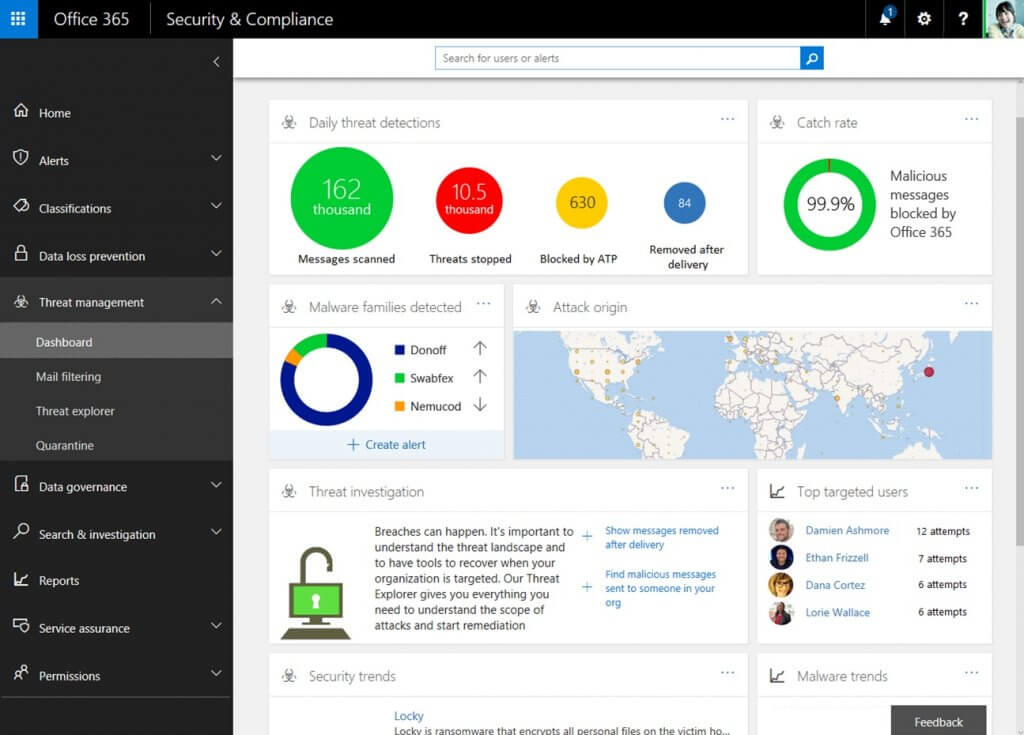 features and functionalities that will assist in securing email, makes it a necessity for businesses and organizations to utilize.
Office 365 Advanced Threat Protection was built to provide nearly unsurpassed email security with little impact on the email users productivity. Advanced Threat Protection defends your organization from today's growing security threats with powerful safeguards like Safe Links, Safe Attachments, URL Detonation and Dynamics Delivery.
How these email safeguards secure email
Safe Links: Provide time-of-click protection to help prevent users from opening and accessing malicious links.
Safe Attachments: Protect users from opening malicious attachments.
URL Detonation: Helps prevent your users from being compromised by files linked to malicious URLs.
Dynamic Delivery: Delivers email to the recipient's inbox along with a "placeholder" attachment while signifying that the real attachment is being scanned, and doing all this with minimal lag time.
URL Detonation and Dynamic Delivery are the newest additions to the Advanced Threat Protection security solution. So, I'll be describing what they do to secure your email more in depth.
URL Detonation and how it works
When a user receives an email, Advanced Threat Protection analyzes the URLs in the email for malicious behavior. This new capability is in addition to the URL reputation checks that Advanced Threat Protection already does. If a user ends up clicking a link during the scan, the message "This link is being scanned" is displayed. If the link is identified as a malicious link after the scan, a pop-up window will open, to notify the user that the link goes to a malicious site and or file and warns against opening it.
IT admin can configure a Safe Link Policy that turns on the URL trace to track user clicks, this is especially helpful for instances when users can bypass the warning click through to blocked pages. Doing this enables the IT admin to focus on remediation efforts for impacted users while not disturbing the productivity of other users.
Dynamic Delivery public preview
Since Microsoft introduced Safe Attachments to Advanced Threat Protection, there has been a reduction in the time it takes to scan emails containing attachments. With Dynamic Delivery, recipients can now read and respond to an email while the attachment is being scanned. Dynamic Delivery will deliver emails to the recipient's inbox along with a "placeholder" attachment, letting you know that the attachment is being scanned.
If a user clicks the placeholder attachment, they will see a message showing the progress of the scan. If the attachment isn't malicious in anyway, it will seamlessly re-attach itself to the email so the user can access it. If it is a malicious threat, then Office 365 Advanced Threat Protection will filter out the attachment and block it from you accessing it.
How to enable Dynamic Delivery and URL Detonation
Dynamic Delivery can be activated through the policy controls from the Safe Attachments admin control window under Settings. Just select the Dynamic Delivery radio button.
URL Detonation is enabled through the policy controls in the Safe Links admin window under settings. Select on the radio button and then select the Use Safe Attachments to scan downloadable content checkbox to enable URL Detonation.
If you still need assistance with turning on the new Advanced Threat Protection capabilities, watch this video.
Interested in Advanced Threat Protection?
If you have an office 365 E5 plan, then you already have Advanced Threat Protection, but if you're in not on that Office 365 plan, you can purchase Advanced Threat Protection for $2 a month (for each user) with your Office 365 plan. You can add Advanced Threat Protection to the following Exchange and Office 365 subscription plans: Exchange Online Plan 1, Exchange Online Plan 2, Exchange Online Kiosk, Exchange Online Protection, Office 365 Business Essentials, Office 365 Business Premium, Office 365 Enterprise E1, Office 365 Enterprise E2, Office 365 Enterprise E3, Office 365 Enterprise E4, Office 365 Enterprise K1, Office 365 Enterprise K2, Office 365 Education.
Let me know if you're interested in purchasing Advanced Threat Protection, we can assist you with getting it up and running quickly. Contact us here!