Using Office 365 Import Service, migrating to SharePoint Online and OneDrive for Business just got easier
Migrating your content to SharePoint Online and OneDrive for Business can sometimes require lengthy data uploads over the network. Your document migration to SharePoint Online and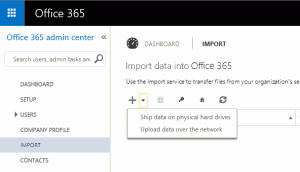 OneDrive for business gets enhanced by The Office 365 Import Service. The enhancements make it:
Fast: Save time with your migration to Office 365 by copying it to hard drives and shipping them rather than using the network to upload large amounts of data. If you prefer, or need to use the network to upload, especially for smaller sets of data. Try the new migration pipeline, it's many times faster than traditional migration methods.
Simple: The Office 365 Import Service is a free tool that's available to use to package up your on-premises SharePoint or file share content and prep it to be imported into Office 365.
Before using the Office 365 Import Service you should:
First: Prepare the content and manifest packages based on content from an on-premises file system or SharePoint using the preparation tool.
Second: Navigate to the Import tab in the Office 365 admin center and create a new drive shipping or network upload job.
Third: Load the data onto drives and ship it using the address listed in the Office 365 admin center or upload the data to a specific location.
Fourth: Once your data is received, it is automatically imported into your tenant in SharePoint Online and OneDrive for Business.
You will be able to monitor the process in the Office 365 admin center.
If you are interested in learning more and want to start using the service, Visit this TechNet article for more information.
For Enterprise organizations, how do you think the Office 365 Import Service will help with your migration needs? Do you see your organization using this service on your next migration?