Visio 2016: Microsoft's Industry-Leading Diagramming Solution
Last week Microsoft released the new Visio, Visio 2016.
What is Visio 2016?
Visio 2016 is Microsoft's industry-leading diagramming solution, that's currently used by over 12 million users. In this post I am going to introduce you to Visio 2016's newest innovations.
Visio 2016 has made it easier to define business processes, document best practices, stay on top of operational insights and visualize the future state of transformative initiatives. You can share Visio diagrams with everyone when using Office 365.
With Visio 2016 working visually is faster than ever, with starter diagrams, smart shapes, one-step data linking, Information Rights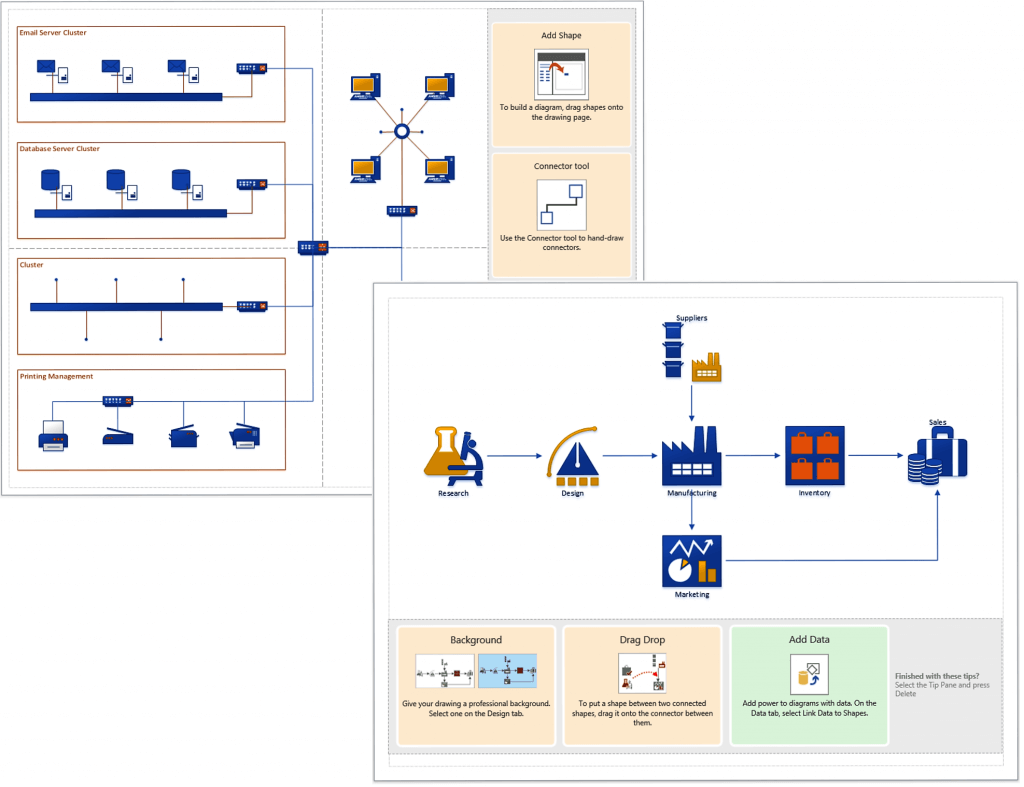 Management (IRM) for compliance, and much more that will all help improve your work flow.
Visio 2016 has a new set of pre-crafted starter diagrams and contextual tips and tricks that help you to easily create, edit and fully complete your diagrams.
The diagrams are quickly executable, they are available in 15 of the most popular domains (flowcharts, timelines, workflows, tree diagrams etc.), and they were made to motivate and guide you from start to finish.
Tell Me support is a new built-in way to navigate more than 800 commands in Visio 2016. You can type in a question in Visio 2016 to see relevant commands that will be displayed in a drop-down list. Executing the command is as easy as clicking one of the options listed. Now, even new users can access the full capabilities of Visio 2016.
Compliant and Productive
Visio 2016 has thousands of shapes that meet industry standards, including BPMN 2.0, UML 2.4 and IEEE (new). Visio can help you stay compliant and work visually with mapping out an IT network, building an org chart, documenting a business process, drawing a modern floor plan, building patent layouts or capturing a flowchart from a whiteboard.
Connecting Data to Diagrams
With Visio 2016, you are able to link diagrams to popular data sources such as Excel, Active Directory, SharePoint and SQL Server to display data on top of real-world visuals. An example of this would be to create an assembly line in Visio 2016 and connect different components of the diagram to real-time operational data. Data-linked diagrams can update automatically and will display different symbols and colors to reflect changes in the underlying data.
Visio 2016 Quick Import capability now makes it easy for anyone to link data to real-world diagrams. With just a single click Visio 2016 can automatically identify your data source, import your data, link the data to shapes and apply data graphics. With Visio's one-step data linking, you can turn diagrams into dashboards and monitor performance and progress in real time.
In Visio 2016, you can swap out graphics to your liking and with just one click you can make your data easily absorbed.
Confidently Collaborate
Since people and organizations are getting more and more involved in collaborating with others, Office 365 is focusing on collaboration and security. Also sensitive information that is held within diagrams in Visio 2016 now requires new levels of protection. Visio 2016 now also supports Information Rights Management (IRM) and lets you control document rights at the individual user levels.
Now in Visio 2016 you can work visually, leverage data and protect sensitive information better than before.
Start a trial of Visio Pro for Office 365.
Try the new Visio 2016.