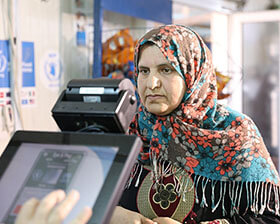 WFP is using blockchain and biometrics to supply food to refugees through electronic cash vouchers!
We continue to be amazed at how the World Food Programme (WFP) is using new information and communication technologies to support its mission as the world's largest humanitarian agency fighting hunger.
A couple of weeks ago, we wrote about how WFP, a client of ours, is running the IT for an experiment to help children teach themselves, without teachers, using tablets from Google and software from finalists in the XPRIZE Global Initiative. Now we've found out that they're using blockchain to feed tens of thousands of Syrian refugees in Jordan.
To understand how far WFP has come, it's best to look at all this as a process that's been going on for more than 10 years. The first big breakthrough was using cash vouchers with merchants rather than always distributing food directly. There are some circumstances where direct distribution may still be best, but in a situation like a refugee camp, vouchers can make more sense.
One of the depressing statistics of global aid is that, overall, an estimated 30 percent of all funds don't reach their intended recipients because of third-party theft or mismanagement. One way to reduce some of that is to work with a distribution infrastructure that is already in place, with its own checks and balances. Buying through merchants can be a way to do this. Of course, additional controls must be in place, but it's not the chaos of building an entire distribution operation, at scale, in a hurry, with partners who may or may not be that experienced or even ethical.
Letting beneficiaries shop instead of just handing out food has another advantage: they get to pick what they want.
Biometrics
In an environment like a refugee camp, or in any stressed situation, little things go wrong that can gum things up. Also, people find ways to game the system. Since 2016, WFP has been reducing the risk of this by using biometrics to authenticate food recipients.
Refugees, for example, initially register with the United Nations High Commissioner for Refugees (UNHCR), the organization that runs the camp. At that time, they have a retinal scan attached to their registration. From then on, when they go for a participating merchant in the camp for food, they have their retinas scanned, and the merchant gets the beneficiary's identity and available cash posted in an app on a checkout screen. This means the refugees don't have to worry about losing their cards or having them stolen, and opportunities for unethical uses of accounts diminish.
Blockchain
Last year, WFP started using blockchain instead of working through local banks and their payment systems. This saved money, because transaction fees and costs can be as much as 3.5 percent of all transactions. Multiply this savings by the $6 billion that WFP spends across 80 countries each year, and there's a potential savings of millions of dollars. 3.5 percent of $6 billion is $210 million.
Blockchain technology achieves this, in general, by being a distributed database that is continuously updated and verified by its users. Each added block of data is "chained" and becomes part of a growing list of records, under the surveillance of network members. By distributing the accounts widely across a network of servers and participants, the ability to distort the entries is, it appears, eliminated, and with it, many opportunities for fraud. With this taken care of by the system, you don't need the extra reliability usually provided by banks. The blockchain also increases the privacy of beneficiaries and allows WFP to reconcile its accounts faster, because it doesn't have to wait for reports from the banks. The system is also secure at the blockchain level, because of built-in encryption.
From the point of view of the refugees, adding the blockchain didn't change their activities at all. Their interfaces and routines remained the same. Only the back end of the system changed.
The initial pilot for this project, called Building Blocks, ended up by last May involving 10,000 refugees in the Azraq camp in Jordan. Since then, it's been extended to more people at the camp of 32,000, and WFP is moving to expand it to other locations, as well. There are also hopes to hook more information into the blockchain, such as the refugees' medical records and educational certificates, from UN agencies like WHO and UNICEF.
It is so exciting to see these cutting-edge technologies actually helping people in need. Thanks, WFP.